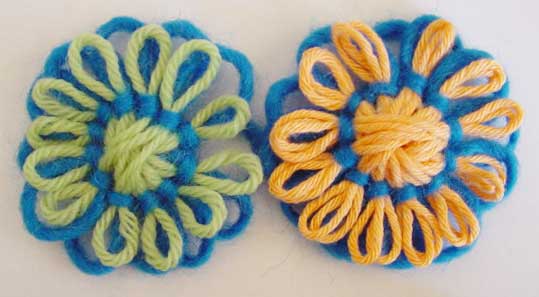 These flowers are made with one very thick yarn and one yarn around DK weight
I used bulky Lopi for the thick yarn and DMC tapestry wool for the thinner yarn in the green flower and an Australian 8 ply cotton by Patons for the orange flower.
Mix and match whichever yarns you like, making sure that one is bulky and one thinner.
Take your bulky yarn and wind it around your loom, going around two pegs at a time, but moving over only one peg for each petal.

If that doesn't make sense just follow the numbers in the diagrams on the left. 🙂

Keep going until you've made a complete round. Cut your yarn, leaving a long enough end to work your centre.

Using your thinner yarn work a round or two of regular petals.
Work your choice of centre. This flower has a back stitch centre.
Pop your flower off the loom and darn the loose ends into the back.
---
Copyright Sarah Bradberry April 2007. All rights reserved.