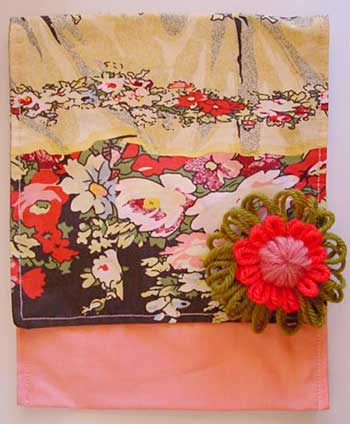 Take your finished flower and stick a circle of felt on the back to hide all the messy bits and make a firm surface to stitch to.
Stitch a safety pin or brooch pin to the felt
Pin to something cute and admire your work 🙂
To make a brooch from a wire flower, cut a circle of felt. Snip a design of your choice around the edge.

You could also use a fabric yo yo, piece of embroidery or anything else that you can stitch to.

Poke the end of the wire through the centre of the felt (fabric yo yo, embroidery, whatever you have chosen to use).

Make a large loop on the back with the end of your wire. Make it about the same size as the flower. This will stop it from flopping around on the front.
Stitch a safety pin or brooch pin to the back.
Wear it with pride! I think they look especially nice pinned on a hat.
---
Copyright Sarah Bradberry March 2007. All rights reserved.