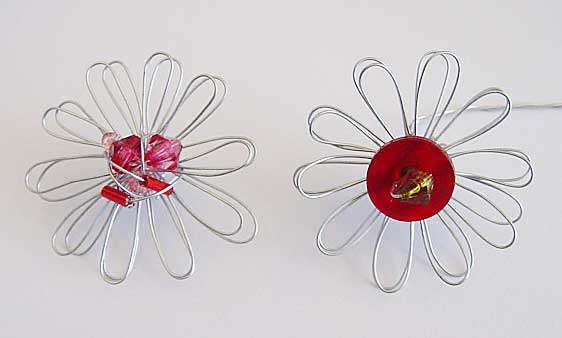 Daisy winders and flower looms make a great jig for winding wire flowers.
These flowers were made on the one and a half inch loom from the Studio Twelve "1000 Flowers" set.
I used a couple of metres of 26 gauge silver coloured wire, a small button and bead.
You will also need a pair or wire cutters and a pair of pliers are handy for tidying up the end when you're finished. You might also need to print the instructions for the oversewn centre.

Step 1: Leave a tail of wire 6 – 8 inches long at the back of your flower and wind the wire around the loom once.

Step 2: Wind the wore around the loom again.
Step 4: Cut the wire, leaving about 8 or 9 inches for weaving the centre. and wind the yarn around the centre following the instructions for the oversewn centre.
Step 5: Bring the wire to the front again and thread on a button and
a bead.
Then thread the wire back through the button and poke it through to the back of the flower.
Step 6: Twist the two ends of the wire together. This can be used to form a button shank or secure your flower to whatever it is you might want to secure it to.

🙂

Pop your flower off the loom and admire the pretty shininess.
---
Copyright Sarah Bradberry March 2007. All rights reserved.