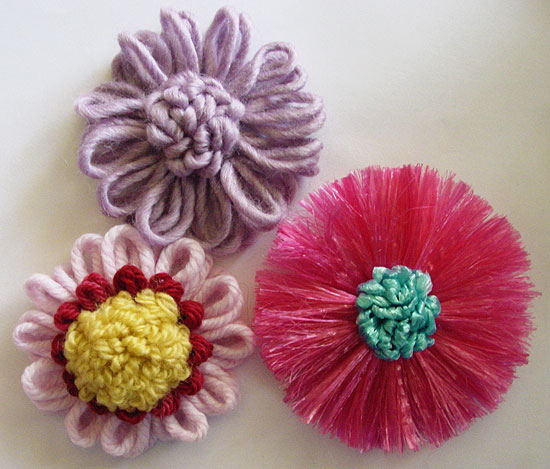 Loop stitch centres are a rather dramatic three dimensional centre that works well with ribbon straw or yarn. The material you use can create quite a different effect.
I tried several different yarns to make my sample flowers.
At the top is a purple bulky yarn made from soy and acrylic, below left is dk weight wool with pink acrylic for the large petals and the final flower is rayon ribbon straw.
Firstly you will need to make a flower with a stem stitch centre.
Take several yards of the yarn that you want to use for the centre of your flower and thread it into a sharp needle.

I find that you can use ribbon straw double but yarn works best as a single length of yarn.

Tie a knot in the end (or you can leave the end and darn it in later).

Stick the needle through to the front anywhere in the centre of your flower and pull the yarn all the way through so that the knot anchors on the back.

Put the needle down through the centre of your flower, close to the point where you came up.
Leave a loop roughly 1/2″ or 12mm high.
Make a lot more loops the same size. If you use yarn and put them very close together they will lie down at the edges and create a rounded shape.

It's up to you how close you pack your stitches together. Do as many as you need to create the look you want.

Pop your flower off the loom and darn any loose ends into the back.
---
Copyright Sarah Bradberry, February 28th 2011. All rights reserved.