Knitting in the round, or circular knitting, is a method of knitting a fabric without turning the work. It is usually worked on circular needles, or double pointed needles.
When knitting in the round you are creating one of three types of fabric, depending on the type of shaping you work whilst knitting:
1. A tube. This tube may contain shaping (the top of a mitten, for example), and may be cut and steeked to form a flat piece of fabric.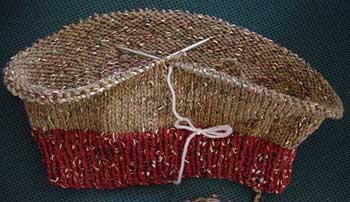 This photo shows a hat being knit on a circular needle.
2. A flat, or almost flat piece of knitting, knit from the centre out, or from the edge towards the centre.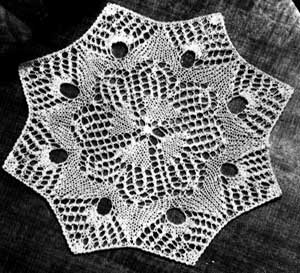 This doily is knit in the round, from the centre out.
3. A combination of the two. For example, a tube of knitting with a flat circular section at one end could become a highly ruffled skirt, or a 3/4 sleeve with a dramatically ruffled end.
Knitting in the round is different from "knitting flat" which usually only produces flat fabrics starting at one edge and working towards the opposite edge (double knitting is an exception).
When knitting flat you turn the work at the end of a row and start knitting back in the opposite direction. When knitting in the round the last stitch of the round is next to the first stitch of the previous round and the knitting forms a spiral.
See also
How to join your stitches when casting on for knitting in the round
External Links