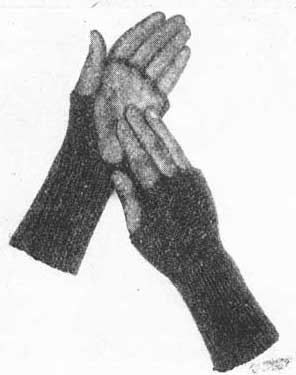 This vintage knitting pattern from 1933 features fingerless and palmless mitts to keep your pulse point and the backs of your hands warm while you work. They are knit in the round with a snug ribbed cuff.
This pattern uses DK weight wool and old UK needle sizes
Materials Required
2 ozs. Greenock Double Knitting or Super Wheeling.
A Set of DPN Knitting needles, size 11 or 12.
A crochet hook.
Pattern
Cast on 42 stitches—14 on each of 3 needles.
Rib in 1 plain, 1 purl, 5 inches, then knit back and forward in plain knitting 28 rows or 14 ridges.
Cast off 12 stitches for Thumb, and on the remainder knit 14 rows or 7 ridges.
Cast off.
Take crochet hook, fasten wool at end, work 8 chain, pass 8 of the cast-off stitches and fasten down with double crochet (US single crochet), repeat for the other three fingers and on stitches left for thumb.