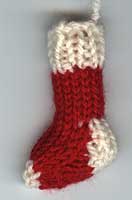 Size
2½ inches (6½cm) from top of stocking to heel
Materials
Scraps of red and white 8ply (dk) yarn
Set of 4mm double pointed needles
Pattern
Note: Whenever you change colours, tie the yarns in a knot and stuff the loose ends inside the stocking for padding. Leave ends approximately 6 inches long and they'll never come undone!
Using white cast on 12sts (making sure to leave a tail of about 8 inches) and work 6 rounds K1, P1 rib
Change to red and work 8 rounds stocking st.
Begin heel
Change to white and knit 6sts, continue on these 6 sts and work 3 rows stocking st (beginning with a purl row), slipping the first st of every row.
Turn heel
K4, Wrap & Turn
P2, W&T
K3, W&T
P4, W&T
K5, W&T
P6
Gusset
Change to red yarn and knit heel sts, pick up 3 sts down side of heel, knit instep sts, then pick up 3sts up other side of heel, k3 sts from heel. Mark this as the beginning of the round.
Round 2: K4, K2tog, K6, SSK, K4
Round 3: K3, K2tog, K6, SSK, K3
Round 4: K2, K2tog, K6, SSK, K2
Foot
Work straight in red for ¾ of an inch (2cm) from the beginning of the gusset
Shape toes
Change to white and K2tog all round until 3sts remain. Break yarn, thread through sts and fasten off.
Making Up
Thread loose yarn end at toes into stocking and trim. At top of stocking form cast on tail into a loop for hanging and tie.
---
This pattern and all images on this page are Copyright © Sarah Bradberry January 2000. All rights reserved.