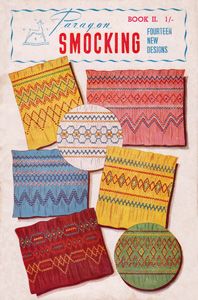 Smocking may make you think of fancy dresses for little girls but it's also wonderful on adult's blouses, cushions and purses. You can even work it on checked gingham or spotted fabrics to create interesting colour effects, depending on how you pleat the fabric.
You'll need fabric approximately 3-4 times the width pattern piece you want to smock (unless it's already worked out for you), embroider your smocking then cut out the pattern piece afterwards from the back. Don't forget to keep in mind the weight of your fabric when deciding how much you need. The heavier the fabric, the less you will need because of the fullness of the folds.
This little 1940's booklet from Paragon has instructions for working all of the stitches shown below, plus 14 designs with beautiful period idea sketches. I'm pretty sure I need some 1940's pyjamas with smocking on the top!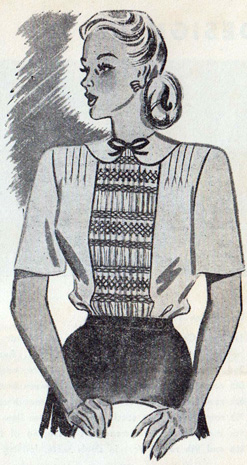 Download Paragon Smocking Book II
---
Copyright Sarah Bradberry, 6th July 2014. All rights reserved.