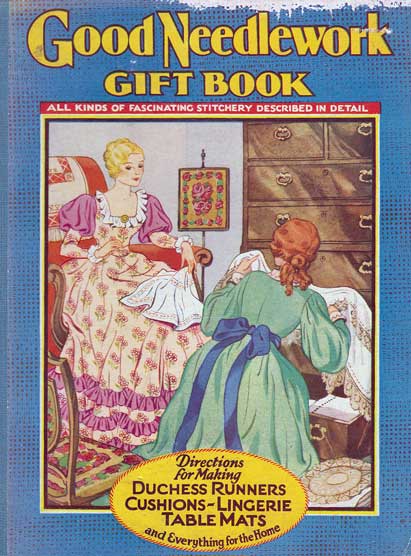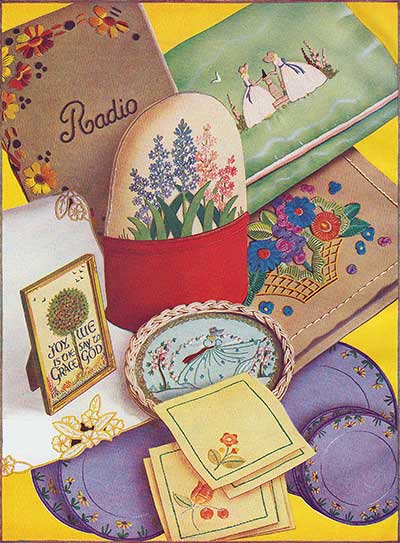 In the early 1930's Good Needlework and Knitting magazine released a series of books to promote their vast range of iron on embroidery transfers. They included every type of embroidery project imaginable, from doilies and table runners, bags, book covers and desk blotters to curtains and lingerie.
This is the second book in the series and, like the first book, it contains a large number of embroidery projects, including a large section on working the stitches with clear photographic samples. It also includes instructions for working many different designs on vintage lingerie, with different trims (both floral and lace), and how to work cut-work with inset netting for the background plus the obligatory patterns for tea cosies, table runners, and even a pin woven handbag!
There is a lovely selection of vintage knitwear for babies in this volume with a lace shawl, jacket, two pairs of booties, pilchers, cardigan, coat, leggings jumper (sweater) with stork design and vests (singlets) in six different sizes.
My favourite of all, though, would have to be the embroideries on gingham, with three sweet designs that would look lovely in any vintage style home.

Most, if not all, of the projects can be made without the need for the original transfers. Just print the appropriate page, trace off the design and start embroidering!
Five books were published in this series and I've made them all available on my embroidery page.

Download "The Good Needlework Gift Book Number Two"
---
Copyright Sarah Bradberry, April 25th, 2014. All rights reserved.