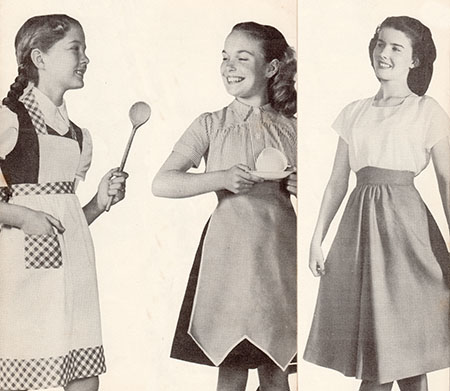 Leaflet 3a in the Needlework Development Scheme's series "And So To Sew" includes:
Patterns for two aprons and a dirndl inspired skirt with shaped or straight waistband.
Tips for machine sewing
Top stitching
Gathering
Tailor tacks
Simple seams
Applying binding with mitring
Measuring for a hem
How to prepare a hem for sewing

Download "And Sew to Sew" leaflet 3a
See "And Sew to Embroider" leaflet 3b for designs to embroider on these aprons and skirts.
Modern Tutorials
Since most of us don't have sewing teachers in our classroom to show us the finer details of each technique, here are some modern tutorials I have found online.
Top Stitching by Last Stitch
This video has some really great tips on thread and presser foot choice.
How to Sew Gathers 3 Ways by Fabricdotcom
Tailor Tacks by Professor Pincushion
Simple Seams by Hobby Lobby
Applying binding with Mitring
How to bind inverted corners with bias binding (photo tutorial by Rima Khusainova)
How to bind 90 degree corners (photo tutorial by Sew to Speak)
How to bind outer points other than 90 degrees (photo tutorial by Heather Mulder Peterson)
Measuring for a Hem (Skirts) by National Sewing Circle
This video uses a special skirt ruler, but you can use any ruler or tape measure. Just make sure it's held perpendicular to the floor and not at an angle.