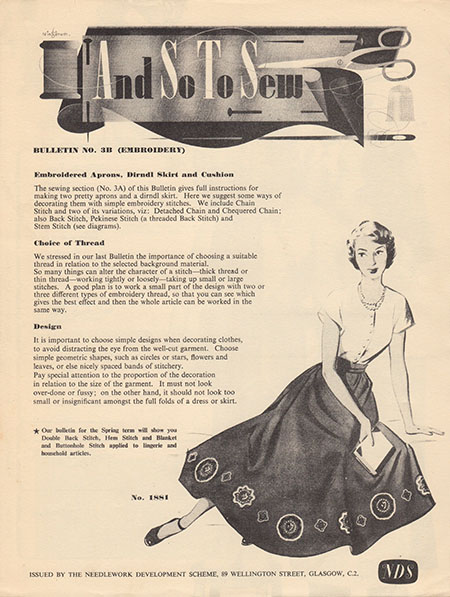 Leaflet 3b in the Needlework Development Scheme's series "And So To Embroider" includes:
Embroidered motifs for the two aprons and dirndl skirt from "And Sew to Sew" leaflet 3a.
How to mark the pieces for embroidery
Chain stitch
Detached chain
Chequered chain
Back stitch
Pekinese stitch
Stem stitch
How to stretch misshapen embroidery back into shape

 Download "And So To Embroider" leaflet 3b
Modern Tutorials
Since many of us don't have a teacher to show us how to work these stitches in person. here are some tutorials I have found for the stitches in this leaflet.
Chain stitch by Mary Corbet
Detached Chain by Mary Corbet
Chequered Chain Stitch by Mary Corbet
Back Stitch by Red Ted Art
Pekinese Stitch by Mary Corbet
Stem Stitch by Mary Corbet