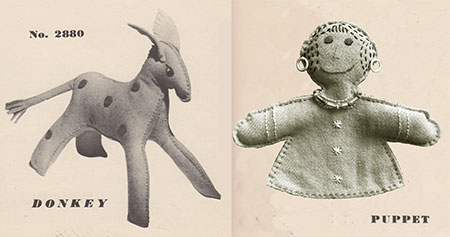 This version of leaflet 1a from "And So To Sew" was a bit of a surprise. It looks to be either a pre-WW2 issue  or perhaps a trial issue that wasn't used in the final series. I really don't know. If it does date to before World War 2, the bulletins would have been put on hold due to paper shortages and rationing of materials, which is why that may be a possibility. Either way, this leaflet is not mentioned again in the series, whereas the other version of And So To Sew bulletin 1a is.
This issue covers the basic tools needed for your sewing kit, whether you're sewing toys or clothing, and the basics of working with felt. The patterns include a donkey and hand puppet sized for small children.
I have edited this leaflet due to the original puppet being a hula dancer. Since hula is a sacred practice for many, I thought it respectful to replace it with the puppet I made. The pattern and basic elements of the project remain the same.

 Download "And So To Sew" 1 a – alternate