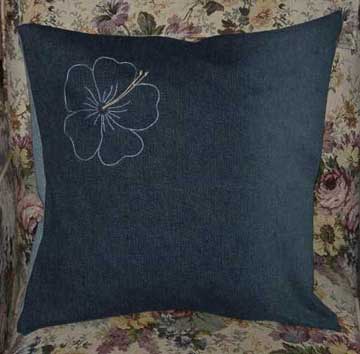 Simple envelope cushions are a fantastic showcase for fancy fabrics and embroidery. Since they close at the back with a simple overlap of fabric, you don't need to know how to stitch zippers or buttonholes in order to make them. The cushion insert can also be removed very easily for laundering, which is important if you have pets or children!
This cushion was made with oddments of denim and features the vintage style hibiscus embroidery.
Pattern
Materials
For the front of the cushion: a 48cm (18 7/8″) square of medium weight fabric, decorated in any fashion you desire.
For the back: 2 pieces of plain medium weight fabric 48cm x 30.75cm (18 7/8 x 12″)
Thread to match
45cm cushion insert
To Make
1: Decorate the piece of fabric for the front of your cushion using any technique you desire. I embroidered a flower on mine (you can see some more cushion covers I made at the bottom of this page) .
2: Neaten the edges of all pieces using a zig-zag or overcast stitch.
3: Fold over 3cm along one long edge of each back piece and hem.
4: Place the front piece of your cushion on your work table with the right side facing up.
5: With the right sides together, place the first piece of the back on top of the front of the cushion, with the raw edges together. (Ignore to horizontal seam in my photo, that was already on my fabric and doesn't form part of the construction of the cushion cover).
6: Place the second piece of the back over the front in the same way. Your hemmed edges will overlap near the centre. Pin all the raw edges together and sew all the way around.
7: Reinforce the corners and the areas along the seam where the hemmed edges overlap by stitching over them again.

Clip the corners and turn the right way out.

This is the back of the floral cushion. If your cushions will receive a lot of rough handling you might want to stitch 3 large press studs along the opening but if they won't be used in regular pillow fights this isn't necessary.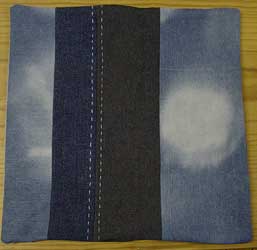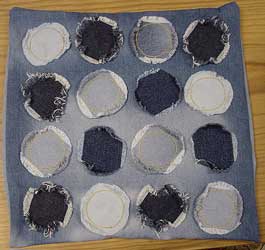 I also made these three cushion covers to complete a set for my couch.
---
Copyright Sarah Bradberry April 2006. All rights reserved.