I'm not quite sure where to start with this post so I'll just jump straight into the spinning that I mentioned yesterday.
150gms of Ewe Give Me the Knits organic merino in "High Country Autumn". This is the club fibre from April 2011.
I spun straight from the tops and chain plied. dk weight. Instead of predrafting, I drafted straight across the top from side to side in order to keep the speckles in the colours. I really love how this turned out.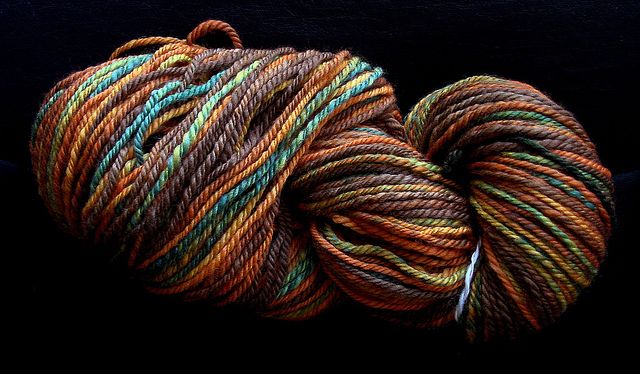 This next spin is from BeeMiceElf. I bought it from someone who was destashing it on Ravelry.
This is a two ply, fingering weight Polwarth. I haven't spun a lot of polwarth and I really enjoyed it. 220gms. I split one braid into about 12 or so strips and the other into just four so one ply has longer colour repeats than the other.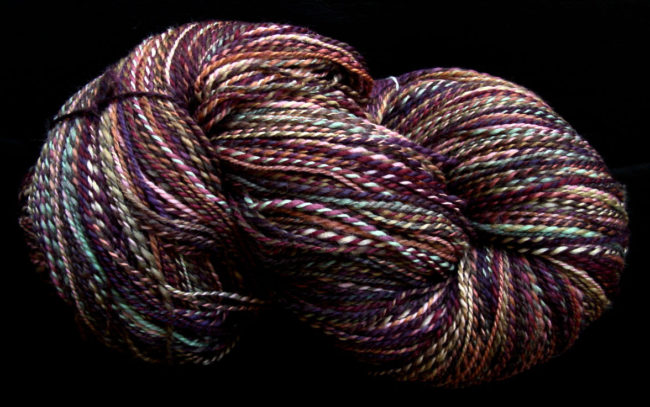 Speaking of Ravlery, I managed to get back onto the website after playing around with my firewalls. It turned out that the modem firewall was blocking not only Ravelry, but also google images, Etsy and blogspot images. At one stage Sortahubby's virus protection was also marking Ravelry as a threat site. Maybe it has something against knitting 😛
This next yarn is an alpaca and merino mix from Margaret Peel's fibre supplies. I carded it to blend the colours a bit more. There's about 400gms of dk weight two ply. This picture shows about half of it. It's light, airy and smoooooth.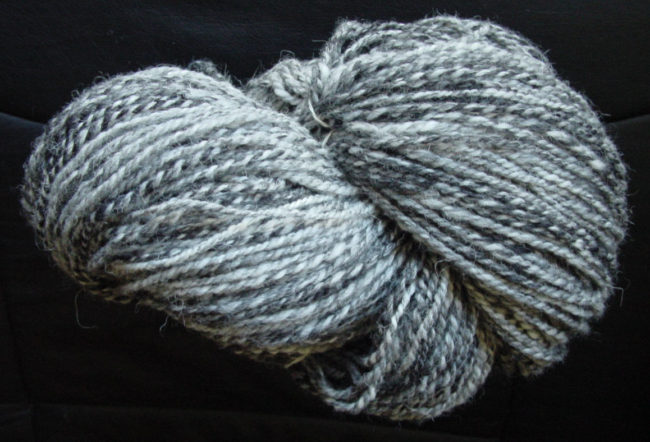 It's way after 11pm so I'll finish off with two pictures of the pieces I made from the yarns I mentioned yesterday. I'll save my spinning wheel news for tomorrow.
This is my Kindle case in progress. At the moment it's just a garter stitch rectangle with rounded corners on one end. I'm going to fold it into a purse shape and close it with a pretty button. It will have to be lined too, to protect the screen from some of the more "textural" elements in the yarn 😉
I don't even have a Kindle yet so I can take my time finishing it.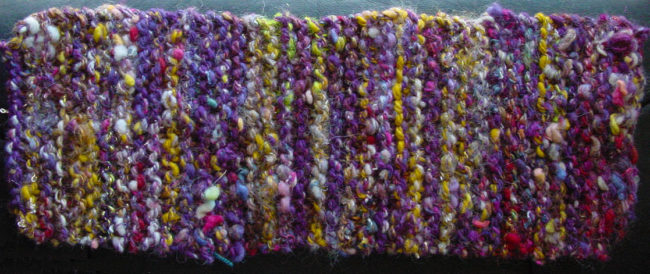 Finally, this is what I have done with my dolly in the garden yarn. It's a crocheted graffiti tag for the Ewe Give Me the Knits shop. It will eventually be wrapped around a pole inside the shop.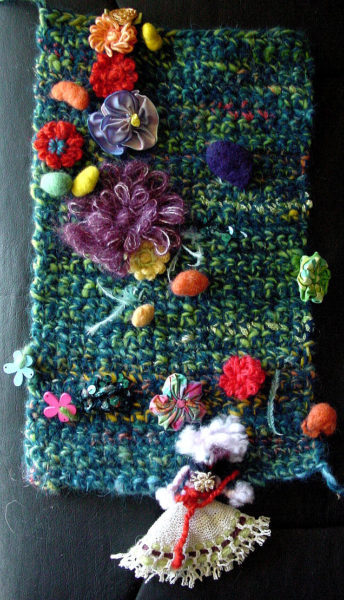 Tomorrow I promise I'll show you the prototype of a new project that will be appearing on the website eventually and a sneak peek of one that will be appearing much sooner. Plus I'll reveal my new spinning wheel which I'm very excited about learning to use. It's totally out of my comfort zone, which is a fun place to go every now and then 🙂