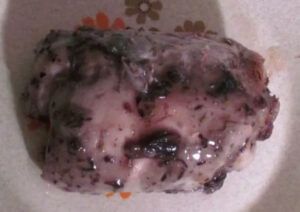 Smothered chicken thighs are a melt in the mouth, easy cook dinner for 2 or 3 people. 5 minutes preparation are all it takes. Serve with veges or steamed rice.
This recipe was originally published as  Smothered Chicken Breasts from the Margaret Fulton Crock-Pot Cookbook, 1976)
Ingredients
2-3 chicken thighs
1/2-1 teaspoon of dried rosemary or tarragon
1-2 tablespoons of Worcestershire sauce
250gm/8oz can of mushrooms
Method
Turn your slow cooker or crock-pot to
Mix your herbs, Worcestershire sauce and mushrooms.
Put the chicken thighs into the crock-pot, pour the sauce on top and cook on low for 5 – 7 hours.