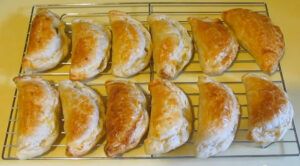 We are huge Harry Potter fans at the house of the vintage kitchen, so to celebrate the upcoming opening of the Pottermore website I'm going to be cooking Harry Potter inspired recipes for the next four weeks.
This week's recipe is for pumpkin pasties, a savoury pastry that's also great for hallowe'en and I even teach you how to do the pastie tap 🙂
Ingredients
1/2 a small pumpkin/orange fleshed winter squash or 2 1/2 cups canned mashed pumpkin
2 1/2 cups of chopped mushrooms of your choice
1 cup of chopped bacon or ham
1 tablespoon of minced onion
2 eggs
salt & pepper
10-12 sheets or flaky or puff pastry
This recipe makes 45-50 pasties. Halve or quarter the ingredients to make fewer pasties
Method
Dice your pumpkin and boil or steam it. Mash and measure out 2 1/2 cups.
Preheat your oven to 220 degrees C or 425 degrees F.
To make the filling for your pasties take your pumpkin, and season with salt and pepper.
Add the mushroom, bacon, minced onion.
Beat one of the eggs and mix everything well.
Beat your remaining egg.
Take your pastry and cut it into small circles about 4 or 5 inches across.
Place a spoonful of filling on one side of each circle.
Brush the edges of the circle with the beaten egg and fold over.
Press firmly all the way around with a fork then fold the edges over to seal.
Make a few holes in the top to let the steam out.
Brush the top with beaten egg.
Place on a tray covered in baking paper and bake in the over for 15 – 20 minutes. You can tell if they're cooked if they sound hollow when you tap them on the bottom.
Place on a wire rack to cool.
Nom yourself silly.