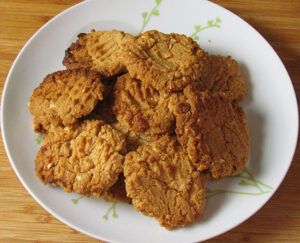 My mother in law taught my daughter to make these biscuits (cookies to my US readers) when she was young. Her cooking teacher was so amazed that you can make biscuits without any flour that he took them to the staff room to show them off.
Only half of them returned 🙂
This is a great recipe to make with small children, as long as you don't mind them eating ridiculous amounts of sugar afterwards 😛
This recipe makes about 15 biscuits.
Ingredients
1 cup of peanut butter. I like to use crunchy but smooth will work as well.
1 cup of white sugar
1 egg or equivalent in vegan egg replacer for a vegan version. We've tested both and they work really well
Optional additions include a couple of tablespoons of candy coated chocolate chips, mini M&Ms or extra nuts.
Method
Preheat your oven to 180 degrees C or 350 degrees F.
Go and do something else for 10 minutes or by the time you go to put them in the oven it still won't be hot enough.
Mix everything together until thoroughly combined.
Place heaped teaspoonfuls on a cookie sheet lined with baking paper and press down with a fork to flatten slightly and make ridges on the top. You can get about 8 on one cookie sheet. They'll spread quite a lot.
Cook on the top shelf of your oven for about 20 minutes or until slightly browned on top.
Leave to cool completely on the cookie sheet before removing.
Magic!