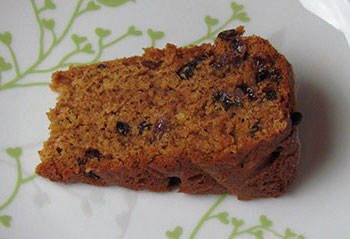 This fruit cake is a family standard, requested often for birthdays and special occasions.
Originally published in The Mercury (Hobart), on the 21st of August 1952. This recipe is not only great for anyone who can't eat eggs, it's also dairy free and with one little substitution it's vegan too!
The cup sizes in this recipe are 240ml, although you can use a metric cup.
Each tablespoon is 20ml or 4 teaspoons.
Ingredients
2 cups of water
2 cups sugar
2 cups of mixed fruit
2 tablespoons (8 teaspoons if you're in the US) of beef dripping. If you want to make a vegan cake you can use vegetable shortening.
4 cups of flour
1 teaspoon each of:
Cinnamon
Mixed spice (or allspice)
Nutmeg
Baking soda (also kown as bicarb soda in some countries)
A pinch of salt.
You'll also need a 22cm or 9″ diameter springofrm pan or large loaf tin
Butter or margarine to grease your tin
A piece of baking paper cut to the shape of your cake tin
Method
Preheat your over to 180°C or 350°F
Grease and flour your cake tin.
Put the water, fruit, sugar, shortening and baking soda in a saucepan and boil gently for 5 minutes.
Allow to cool.
Sift all of the dry ingredients together.
Mix the fruit mix into the dry ingredients.
Pour into the cake tin and cover the top of the mixture with baking paper. This will stop the top of the cake from overcooking.
Bake for 1 hour or until cooked. The time it takes will depend on your oven and the shape of the cake tin you've chosen.
---
Copyright Sarah Bradberry, February 8th, 2013. All rights reserved.