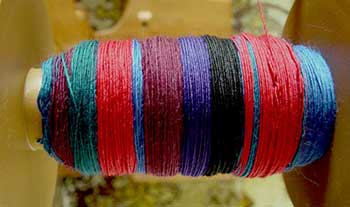 Self striping yarns are really easy to spin from scrap fibre.
You can choose a set of coordinating colours, or just use up all of your scraps for a wildly coloured yarn.
Firstly choose your fibre. It doesn't have to be all the same fibre but try and take into account the way your different fibres will work in your finished project. It can be combed or carded, solid, heathered or blended. I'm using some fine merino tops from Ewe Give Me the Knits.

Decide how you will spin and use your yarn and how wide you want your stripes to be. This step is optional. If you just want to have fun spinning you can always decide what will be the best project for your yarn when you've finished 🙂

Break your fibre into pieces. If you want stripes of the same thickness throughout the pieces should be the same size.

If not, break them into pieces that reflect the size of the stripes you want in your finished yarn. For example, if you have a blue stripe and you want it to be followed by a white stripe that is twice as wide, make your piece of white fibre twice the size as the blue piece.

I spun my yarn quite finely and I wanted shortish stripes, so my pieces are quite small. I used 2 pieces of fibre shown here per stripe.

Spin your fibre in whatever order you want your stripes to be.

I like to chain ply my self striping yarns but you can spin them any way you like.

Different techniques that would keep the stripes intact include using it as a single, core spinning your fibre and plying with thread, just to name a few.

On the left you can see some of my finished yarn knit into a teddy bear jumper.

You can make your stripes as long as you like. For the cloche hat on the left I used 30gm batts carded on an Ashford drum carder. I used 1/4 of each batt per stripe and spun a bulky single. I then felted the hat after knitting.
---
Copyright Sarah Bradberry, December 23rd 2010. All rights reserved.