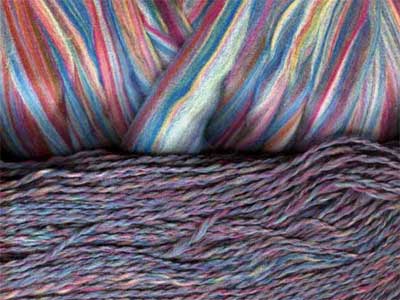 I didn't design this fibre (it's a commercially produced Merino) but I wanted to show the difference between the sliver and the spun 2 ply yarn when spin straight from the tip of the sliver. As you can see, the sliver has very little purple in it, but the spun yarn is predominantly light purple.
You can see that the original roving has many colours lying side by side. When spun into a 2 ply dk weight yarn these colours blend together to form the new heathered colour.
The bulkier you spin your singles, the less mixing there will be.
If you would like to learn how to make your own heathered yarns in your home studio, you can't go past Color In Spinning by Deb Menz)
---
Copyright © 2000 Sarah Bradberry