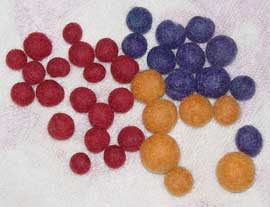 You can use the felt bobbles from the previous instructions, beads, charms or anything that can be threaded onto your quilting cotton for this step.
Thread a sharp needle with your quilting thread used double. (If your bobbles are large, or if you are using heavy beads or charms, you might want to use a stickier thread such as wool instead).
Thread the needle through your felt bobble (bead etc), pull through a loop of thread and remove the needle.

Click the image for a larger view
Hold the loop open with a few fingers.

Click the image for a larger view

Fold the loop back over the felt bobble.

Click the image for a larger view

Pick up the bobble and pull it through the loop.

Click the image for a larger view

Pull the loop closed.
This is how the bobble should sit next to the quilting thread.

Continue threading your bobbles or beads onto your thread. I like to space mine about 90cm apart for a dk weight yarn, but you can space them any way you wish.

WARNING: Don't wind your thread onto a bobbin like this! Use a large cardboard roll or something similar and wind a single layer only.

Wind your bobbled or beaded thread onto a cardboard roll as you go (one of those cardboard PostPak tubes from the post office would work beautifully).

It's very important to keep it tidy and a single layer only (don't wind over the top of bobble thread already on the bobbin), otherwise the thread will get hopelessly tangled over the bobbles and beads. The photo on the left shows how I learnt this vital fact. I ended up breaking the thread, pulling the bobbles off and starting again.
Tips for knitting with your decorated thread
Choose a simple pattern for your knitting, your thread will do all the work.
Garter or reverse stocking stitch are the best stitches to use. With reverse stocking stitch the beads and novelties will automatically fall on the right side of your work, however, with garter stitch you will have to make sure while knitting that the novelties fall on the correct side.
Don't use these yarns on anything that is meant for a baby or toddler. The novelties can be a choking hazard.
Tips for spinning with your decorated thread
You may find it easier to use toilet rolls to hold your decorated thread, as they will fit on your lazy kate for plying.
Don't let too much of your decorated thread unwind at once while plying or it may become tangled.
If you prefer to make shorter lengths of decorated thread, tie them together with a weaver's knot so you don't have to make lots of small skeins of yarn. You can flip the ends to the wrong side of your work as you use your yarn in a project.
Previous Step: Making the felt bobbles
---
Copyright Sarah Bradberry. All rights reserved.