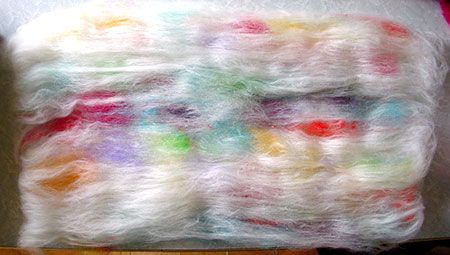 If you're like me you can't resist keeping every last scrap of pretty coloured fibre that ends up left over from other projects. When I have enough, one of the things I like to do with them is card them together to make speckled batts.
Start by choosing a base fibre and lots of small scraps of colours to add to it.
Your base fibre does not have to be a single colour but it will need to be carded or combed together. The base fibre is used to keep the batt together when it is taken off the carder.
I have used a fine merino top as my base fibre, and scraps of wool, goatling mohair and angelina fibre for my coloured additions. You can use any fibre for your additions, as long as the staple is short enough to be carded.

Your add-in fibre does not have to be carded or prepared in any way if you don't want it to be. It all depends on how textured you want your final batt to be.

Card a thin layer of your base fibre.
Take pieces of your add-in fibres about the size of the tip of your thumb.

Apply them straight onto the large drum of your carder.

Turn the handle of your carder until the add-in fibres are firmly on the drum.

If any of your fibres insist on transferring to the small drum you can help keep them in place by using a paint brush or soft scrubbing brush. Hold it against the large drum just above the spot where the two drums meet as you card. You can also do this with your hand but be very careful not to hurt yourself!

Card another layer of your base fibre over the top. Make it as even or rough as you like.
The finished batt with many small areas of colour throughout.

You don't have to use white as your base colour. Try making a series of matching batts by choosing 4 or 5 colours.

Alternate which colour you use at the base and use the others for the add-ins.





The way your finished yarn looks depends entirely on how you choose to spin it.

A thick single will have short lengths of colour while a thin single will have stripes.

You can tear strips off your batt and spin them for clearer areas of colour or roll the batt into a giant rolag for a more heathered effect. It's all up to you!

I used two different sets of batts to make my sample yarn. One lot was made up of the batts shown above and the other set was made with the same white base and blue, red and purple merino as the add-in fibres. I then spun a semi worsted 2 ply worsted weight (12 ply thickness to my fellow Aussies) yarn.

You don't have to use these batts to spin yarn though. Depending on the fibre you have chosen as your base, they can also be used to make a lovely subtly coloured felt.
---
Copyright Sarah Bradberry, December 21st 2010. All rights reserved.