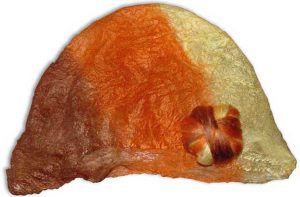 Silk caps can be used to spin a lovely, lightly textured silk yarn with a subtle sheen or you can stretch them into roving that you can knit without spinning at all.
I hand painted 5 caps for my article on cold pad dyeing, so I thought it would be a good idea to include instructions on preparing them for spinning.
If you look closely at the silk cap you'll see that it's made of many layers of silk.

Starting at the bottom of your cap, separate the outer layer and pull it away from the remaining layers. Keep pulling until it's completely separated.

Repeat this step until all the layers of cap have been separated.

You'll end up with a pile of several whispy, light silk caps. I usually get 5-9 layers from a single cap.

Don't be tempted to leave any layers stuck together, no matter how thin they look, as that can make the following steps very difficult.

Don't worry if the layers rip or aren't complete, that won't affect your finished yarn at all.

Take one layer of your cap and poke a hole in the top of it.
Pull the hole open with your hands until you have a large ring of silk.
Stretch the ring of silk as much as possible by pulling your hands apart, working your way around the ring. Don't worry if the ring breaks.

At first this step takes quite a bit of brute force, but the thinner the roving becomes the easier it will be to pull finer.

Placing your hands about 30cm apart, pull the silk until the roving is as thin as you desire for spinning.

If the fibres won't draft, gradually move your hands further apart until they will.

If it's still in a ring, break the roving at the point you would like to begin spinning.

Five silk caps ready for spinning

Wind loosely into balls and you're ready to go!

You can either spin your silk into a yarn, or knit it as it is.

Sanity note: NEVER attempt to ply silk from a centre pull ball! It will stick to itself and you'll end up wanting to throw it away.

My finished yarn. I spun a total of 5 silk caps and plied the silk with a black/copper metallic filament.The result is an utterly enormous skein of 2 ply handspun that's about a 3 ply thickness.

Click on the image for a larger view.

A close-up of a section of my skein of handspun. You can see the textured quality of the silk.

This skein weighs only 135gm, but there's enough yarn to knit a decent sized lace scarf.
Many thanks to Brittany Overton for assisting with the photography for this article.
---
Copyright Sarah Bradberry. All rights reserved.