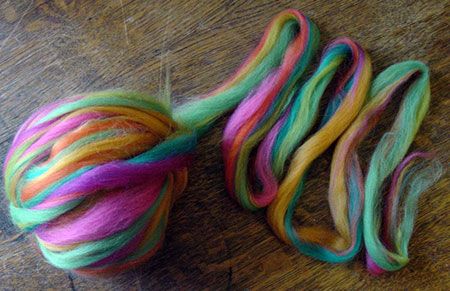 If you don't have a drum carder you can still design your own heathered yarns by following a few quick and simple steps. This technique is also a great way to use up oddments of slivers.
Firstly collect the fibres you would like to use. Commercial tops or batts are the easiest preparation to start with.
I'm using a collection of coloured merino tops from Ewe Give Me the Knits. I have 20 grams each of seven different colours.

You don't need to use plain colours, you could also use hand painted tops or multi-coloured batts for a more complex yarn. If you have some fibre that isn't quite the right colours, you can also use this technique to add more colours or combine it with other multi-coloured fibre blends to create something entirely new.

Start by breaking your fibre into strips. I have stripped my tops into half, then half again for a total of four pieces per colour.

If you're using batts, break them into strips in the direction the fibres lay. If you break them into strips widthways they may fall apart when you predraft the colours together.

Repeat the process with all of your colours. I'm using one equal piece of each colour.

You can use any amount of each colour, they do not have to be equal. The choice is completely up to you!

Take your colours and hold them with one end lined up.
If you're using tops you'll probably find that they're not all the same length.
Predraft the shorter pieces until they're all the same. If you like having scraps to play with you could pull the ends off the longer pieces instead 🙂
It's now time to predraft your colours so that they stick together as a blend.

Hold them all together with one hand on a flat surface. A table or your lap will work well.

With the other hand, grasp the fibre lightly at least one staple length away. The distance will depend on your fibre.

Pull the fibre very gently with the hand that is not on the flat surface. You should be able to feel the fibres shifting very slightly. If they don't move try holding the fibre more lightly with your upper hand, or move your hands further apart.

Pull gently until the fibres move slightly, then move your hands a little further along the fibre supply and repeat. Keep doing this all along the length of your fibre. You will be drafting the fibre very slightly at first. Don't try drafting it as thin as you want your finished preparation at this stage, unless you're planning on spinning very thick yarn.

When you have gone all the way along your fibre, start again, drafting the fibre finer with each pass.

Stop whenever you are happy with the thickness of your preparation.

I spun mine into a 2 ply dk-weight yarn. This swatch was knit on 4mm needles. It reminds me of drawings made with coloured pencils.

Of course, you can spin it any way you choose! Singles or core spun yarns will give a totally different look.
---
Copyright Sarah Bradberry, October 25th 2010. All rights reserved.