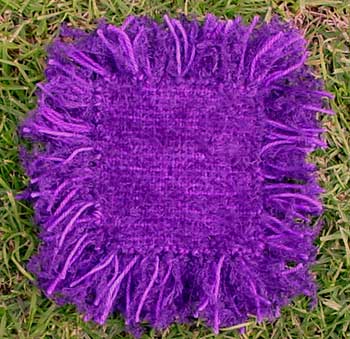 Size
Approximately 10 by 10 inches
Materials
Scraps of dk weight yarns, one smooth and one eyelash (I used Cleckheaton Country and Cleckheaton Faux Fur)
6×6 inch square loom
Crochet hook for making fringe.
Pattern
Using your smooth yarn, wind the weft on your loom. Weave with the eyelash yarn. When finished, remove your piece from the loom.
Using both yarns together, wind your yarns around the outside of the loom approximately 24 times. Cut the loop in half, then cut the threads in half again (these are for the fringe).
Using 2 strands of each yarn together, make a fringe around the outside of your weavettes square, making a tassel in each double loop.
Using your weaving needle, fluff up the eyelash yarn to make a fluffy pile on the top of your rug.
---
Copyright Sarah Bradberry May 21st 2002. All rights reserved.