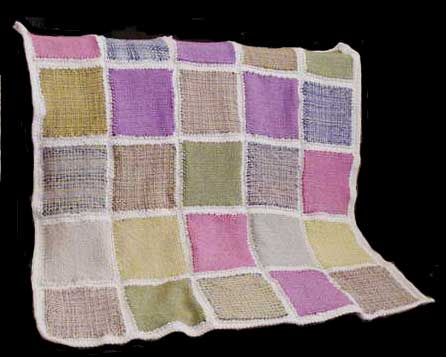 Size
Approximately 48 inches square
Materials
For the squares:
Scraps of bulky yarns (or thinner yarns used together to make bulky weight) to make 25 squares. Each square takes approximately 20 metres (23 yards) of yarn. For my plain coloured squares I used Panda Air Wool (50% wool/50% Acrylic). Each ball made 3 1/2 squares. For joining and the border: Approximately 420 metres (472 yards) of bulky
weight yarn. I used approximately 6 balls of Panda Air Wool in white.
One 8 inch bias or hand loom
6.5mm crochet hook
Pattern
Weave 25 squares using the Weavettes technique.
https://www.youtube.com/watch?v=dIWTQD1iLnQ
Using your border colour work 1 round of double crochet (US single crochet) around the edges of each square. Do this by working 1 dc in each loop at the edge of the woven squares and 3 dc in each corner.
With right sides facing each other, crochet the squares together to form a square of 5 squares by 5 squares.
Finish the border by working 3 rounds of double crochet (US single crochet) around the outside of the blanket.
Darn in all loose ends and block.
---
Copyright Sarah Bradberry May 17th 2002. All rights reserved.