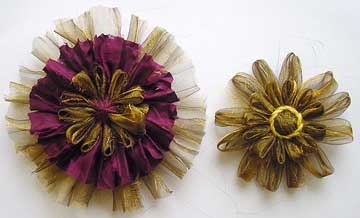 Using strips of fabric to make loomed flowers creates a whole new look.
Try chiffon and silky lining fabrics for flowers like these, combine with yarns, or tear strips of cotton for yet another look. Any fabric that is soft enough to wind on a flower loom when cut or torn int strips will work.
This flower is made from strips of crystal organza/organdy.

It is made with one round of petals on each layer.

When the petals are cut, fabric fluffs out to fill the spaces between the petals.

Layering sheer and opaque fabrics also adds to the visual interest of your flowers.

This flower layers gold/black crystal organza with purple satin. The petals on the bottom two layers were cut while the top layer is left in loops.

You can combine fabrics and yarns in any combination.

This flower has two rounds of organdy worked on the larger petals and one round of bulky novelty yarn worked on the smaller petals. It was stitched with a fingering weight variegated orange cotton.

Both layers of large petals on this flower were cut but you could also try cutting just one layer.

You might also like to explore tearing strips of fabrics that fray very easily to create a very casual look to your flowers.

The following instructions are several ways that you can prepare your fabric, depending on the look you want and the size of the piece of fabric you are preparing.

There are two ways to prepare fabric for making loomed flowers. The one you choose will depend on whether you are using old yardage (such as sheets) or scraps, whether you want to cut the petals afterwards, and whether you want your fabric to fray or not.

If you have a large piece of fabric and do not want to cut the petals, the best way to prepare the fabric is to tear it into strips. Tearing it will separate the fabric along the grain and not leave any small threads that can work loose.

If you're using a sheet or old curtain, start by making a small cut and tearing the hems off your fabric. If you're going to tear your strips widthways you will also need to cut off the selvages.

Make small snips along one edge of your fabric, about ½"-1″ or 1-2.5cm apart.
Tear the fabric along each snip so that you have lengths of fabric of even widths.
Roll your fabric strips neatly, pulling off any loose threads as you go.

You won't need to make as many fabric strips as I have in the photograph. I cut these for making rugs but the technique is the same 🙂
If you want to use fabric and cut the petals, you will need to cut your fabric on the bias if you want to prevent fraying.
I found two excellent videos on youtube to explain how to do this with a rotary cutter. You will want to cut ½"-1″/1-2.5cm wide strips. You do not need to sew your fabric into long strips as you would when making bias binding as loose ends can be trimmed to length when you cut the petals open.
This technique is good for cutting bias strips from old clothes or smaller pieces of fabric.
This technique is useful for cutting yardage into bias strips.
---
Copyright Sarah Bradberry, March 14th 2011. All rights reserved.