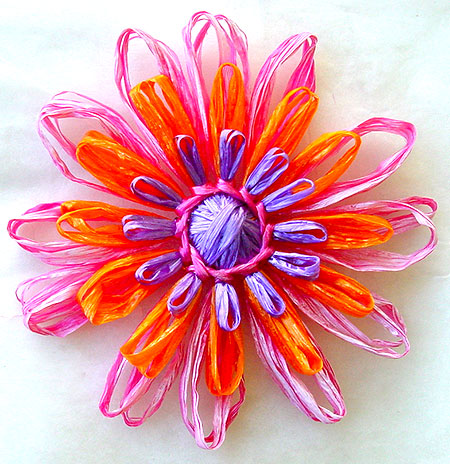 Varnishing ribbon straw flowers gives them extra shine and a little extra protection from the elements. You can also use different brands of ribbon straw to create different effects.
To varnish your flowers you will need:
Gloss spray varnish
Pins
Baking paper (optional)
A piece of firm cardboard or other board that you can pin your flowers to
If you're using a board that you want to use for other things (like my macrame board), cover it with baking paper to protect it.

Test your varnish on a scrap piece of ribbon straw before you varnish your flower.

Pin your flower to the board.

If you're going to stitch down the petals onto a handbag (or something similar) pin them out in the same shape as you are gong to stitch them. If not, a pin in the centre to stop your flower blowing away will be sufficient.

Following the directions on your can of varnish, spray several light coats. Don't spray too thickly.

Leave to dry.

My finished flower.

Here you can see the importance of testing your varnish on all your straw before varnishing. While the purple and orange Turabast brand straw now have an extra shiny finish, the pink Myart brand ribbon straw has a frosted look even though the same varnish was used on both. Combining these brands of ribbon straw in the same flower on purpose can be used to create a lot of different effects.
---
Copyright Sarah Bradberry, April 19th 2011. All rights reserved.