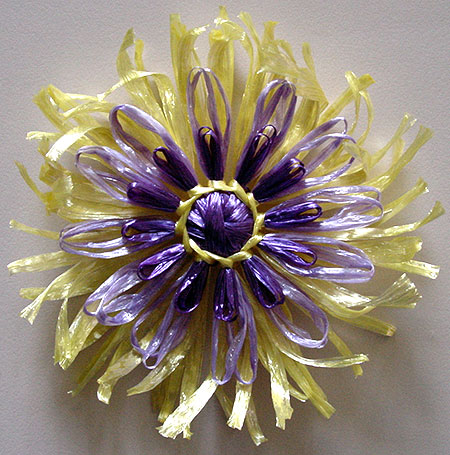 Curling the petals on a Swistraw or Ribbon Straw flower creates a lively dimensional effect. Combined with other types of flowers it adds visual interest to a collection of blooms.
To make a flower with cut and curled petals you will need a finished flower and a knife with a blunt, smooth edge such as a butter knife.

Begin by making a flower using synthetic raffia. I have used a slightly firm vintage synthetic straw yarns called Turabast and Gaysheen. I also tried 100% rayon Myart brand ribbon straw but it was too soft and silky and shredded rather than curling so go for a ribbon straw that is somewhat firm rather than silky soft.

Cut open the petals on the rounds of your choice.
To make the petals curl upwards, take the blade side of your knife and put it on top of your cut strand. Hold your thumb underneath. If you want to, you can curl several at once.

Hold the petals opposite the ones you are curling formly near the centre of the flower. Starting at the centre of the flower, drag the knife blade along the petals to the tip. When you get to within an inch or so of the tip, curl the end of the petals over as you drag the knife across. Repeat as many times as necessary to make your petals curl to the extent that you want.

If you accidentally pull a petal longer than the others, find out which petal it is connected to on the other side of the flower (it will be very short) and pull it to the correct length.

To make your petals curl the other way, hold your flower up the other way so that the knife is on the opposite side of the petals.

My finished flower with cut and curled petals.
A short video I have made to show you the technique.
---
Copyright Sarah Bradberry, April 9th 2011. All rights reserved.