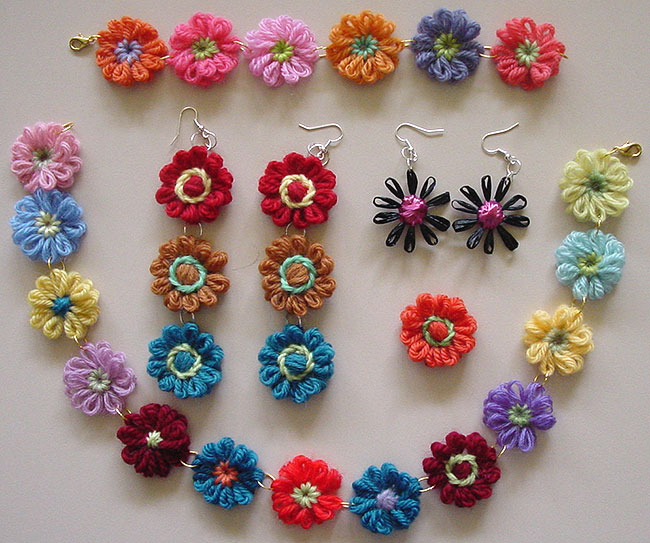 Flower loom jewellery can be made of ribbon straw, yarn or a combination of both. It can be a simple and elegant as a pair of tiny earrings or as over the top as a necklace with a large flower for a pendant.
All of the flowers for this tutorial were made on a Studio Twelve Mini-Fleur loom
Earrings

To make this style of earrings you will need

two or more loomed flowers
jump rings
Shepherd's hook earring findings. You can use any style of earring finding that has a loop at the bottom for you to thread a jump ring through
Pliers (if you are using good quality jump rings)

To make the earrings with only one flower begin by opening up a jump ring and putting it through the top petal of your flower.

Close it, using your pliers.

Thread on a second jump ring through the first and onto the earring finding.

If your earring finding has a hole that faces forwards instead of sideways (as it does on a shepherd's hook finding), you can use any odd number of jump rings.

To make dangly earrings simply add more flowers with an odd number of jump rings between.
If you want to make sure the stitching on the back of the earrings cannot be seen you can glue a circle of felt over the back.
Bracelets and necklaces

To make this style of bracelet and necklace you will need:

Loomed flowers of your choice
jump rings
pliers
a lobster clasp

The flowers are joined together using jump rings in the same way as the dangly earrings.
Finish the ends with a jump ring on one end
Add a lobster clasp on the other end by joining it to a petal with a jump ring
Rings

To make a ring you will need a loomed flower and a scrap of shirring elastic.

Thread the elastic through the back of the ring and tie a knot. It should fit snugly on your finger without being too tight.
---
Copyright Sarah Bradberry, April 28th 2011. All rights reserved.