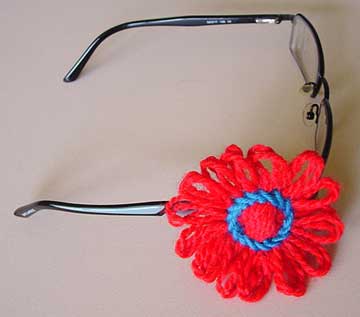 Celebrate Spring and decorate your prescription or sunglasses with loomed flowers!
To decorate your glasses you will need
A loomed flower. See the flower looms page for instructions on how to make them. You can make any size or style that you like. Be subtle or go wild, it's up to you!
A pair of glasses
A scrap of shirring elastic
A sharp sewing needle with an eye large enough to thread the elastic through
Thread the elastic through the back of your flower and tie a knot close to the back.

Trim off the excess elastic.

Slip the loop over one arm of your glasses.

Wear them with the flower near the front, or next to your ear.

My glasses with the flower added.
With this simple technique you could change flowers every day!
---
Copyright Sarah Bradberry, April 28th 2011. All rights reserved.