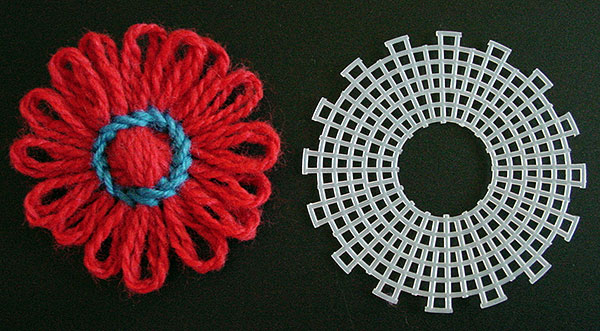 If you're teaching a large number of people to make flowers or want a quick, cost effective way to collect looms of many different sizes, plastic canvas is a great way to go.
Even though plastic canvas is very expensive in Australia I still made these looms for 70c each. After looking up prices for similar plastic canvas circles in the US I think my US visitors could make them for about 10c each.
You'll need:

some plastic canvas
a pair of scissors with a small, pointy blade
an emery board or fine sand paper

I have made round looms but there's no reason you can't make square looms from sheets of square canvas.

Firstly you will need to decide how many "spokes" you want around your loom. I decided that I wanted 16.

Using the tips of your scissors, cut out the squares between your spokes.

Next cut out a circle in the middle. This will make it easier to stitch the centre of your flower.

Take your emery board or sand paper and file off any small bits of plastic that stick out from the areas you have cut.

Also file the corners of the spokes so the petals won't catch when you remove your finished flower.

You can now use your new flower loom!

See the small looms page for instructions on winding your loom and stitching the centre.

If you have several pieces of canvas you can make a range of different looms.

Cut out two or more rows of squares to make smaller flowers or accommodate thicker yarn.

Cut out fewer squares to make flowers with more petals.
---
Copyright Sarah Bradberry, April 8th 2011. All rights reserved.