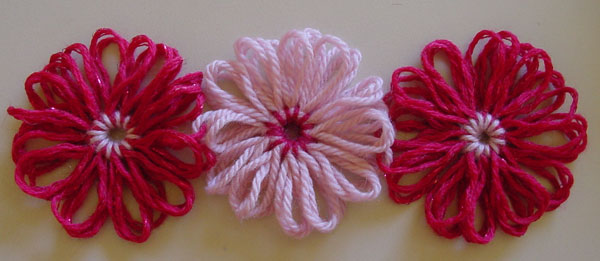 Flowers can very easily be joined together as you make them, with no edging or crochet necessary. This technique is especially useful for projects made from strings of flowers, such as scarves, lariats, and window curtains.
For projects that require extra strength, such as curtains, make sure to join more than one petal on each flower.
The flowers on heavier projects will stretch out and create new and interesting designs.
Make your first flower using whichever technique you like. I have made a flower with three rounds and an open centre.
Take the yarn for your second flower and thread it through the back loop of one of the petals.
Place the first flower above your loom and
begin winding your second flower, pulling the first flower close to the loom so that all of your petals are the same size.
Complete your second flower.
Pop it off the loom and you're ready to add more!

You can join as many petals as you like for each flower, just thread the working thread through more petals as you wind.
---
Copyright Sarah Bradberry, April 2nd 2010. All rights reserved.