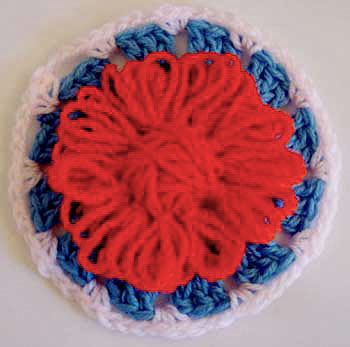 Any edging can be used for floating petal flowers. This is a circular crochet edging that I made up for this tutorial. Please excuse the blurry red bloom, my camera refused to focus on it!
If you want to create a floating petal flower simply work your choice of edging into a single layer of petals at the back of your flower, leaving all the petals at the front free.

This sample is a 3 inch flower made on a "Hero" brand giant daisy winder. I worked 6 rounds of petals. This edging can be adapted for other size blooms and weights of yarn by changing the number of trebles (US double crochet) and chains worked between petals.

1st round: Using a 4mm crochet hook and dk weight wool work *1 slip stitch into a petal on the back of your bloom, 3 chain; repeat from * until you have gone all the way around. Join to the first slip st with another slip st.

2nd round: *Work 3 trebles (US double crochet) into the 3 chain space made on the previous round, then one chain; repeat from * to the end of the round, join to the beginning of the round with a slip st. Cut yarn and fasten off.

3rd round: Join a new colour and *work 2 double crochet (US single crochet) in the space made by the chain on the previous round, 3 chain; repeat around the flower. Join to the beginning with a slip stitch.

To join motifs replace the "3 chain" in the final round with 1 chain, slip stitch into the space made by the 3 chain on the motif you want to join to, 1 chain. Join 2 spaces on each motif.
---
Copyright Sarah Bradberry April 2007. All rights reserved.