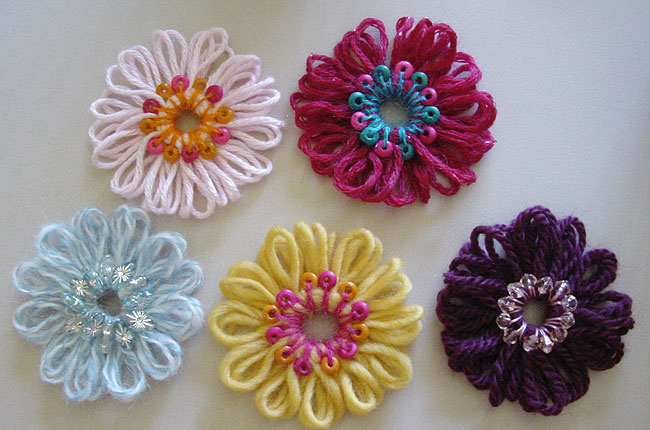 Adding beads to flowers is quick and easy when you thread the beads straight onto the yarn used to stitch the centre.
I've stitched an open centre on my flowers, but there's no reason you can't add beads to the other styles of stitching.
| | |
| --- | --- |
| | Start by winding the yarn on your loom. I've used a large knit wit circular loom but you can use this technique with any loom. You can also add beads to flowers with multiple layers. |
| | Make the first stitch of your chosen centre and tie the yarn off tightly. The placement of this stitch will depend on what style of centre you are making. |
| | Thread on a bead and stitch over the same spot. |
| | Make your next stitch without a bead. |
| | Thread on a bead and make a stitch in the same place. |
| | Continue all the way around your flower. |
| | Remove it from the loom, darn the ends in securely and you have a finished flower 🙂 |
---
Copyright Sarah Bradberry, April 14th 2010. All rights reserved.