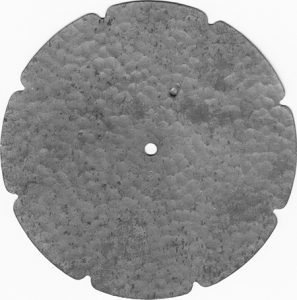 The Mary Louise pattern plate was made by the Bucilla company in 1922, in the US. Whilst it was extremely easy to make a range of flowers on the loom, it was also very easy to save money by cutting the loom out of cardboard and I haven't been able to find any mention of it after the year of it's release.
Bucilla even went to the trouble of having it's inventor give demonstrations in store.
From the New York Times, Friday February 10th, 1922
from The Leavenworth Times, Wednesday May 17th 1922
Plate number 1 is approximately 2 1/4″ in diameter with 12 indentations for winding the yarn, while plate number 2 (pictured above) is 3 5/8″ in diameter with 8 indentations. You can make your own plates by tracing the full size image and diagram in the downloadable instructions and cutting it out of carboard or thin plastic, such as milk bottle plastic or the thin sheets of plastic sold in craft shops for tracing quilting templates.

 Download basic instructions for the Mary Louise flower pattern plate number 2. (Instructions for number 1 are similar but I'll be uploading the specific instruction manual for it when I can find one).
See the index of flower loom projects for specific flowers to make with the Mary Louise flower pattern plate.
---
Copyright Sarah Bradberry, October 30th 2015. All rights reserved.