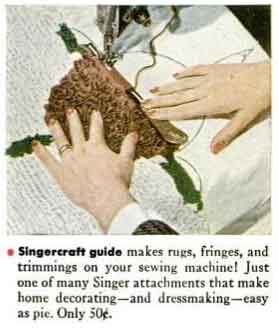 Part of a Singer advertisement from LIFE magazine, September 16th 1946 (page 83).
Singercraft guides were made for roughly 20 years, from around 1929 to the early 1950's. I'm going to explain the differences between models and the best way to find one at a decent price if you just want to use it.

If you're a collector of Singer or sewing items you will be looking for a guide in excellent condition with a box, plus any special edition releases. However, if you just want to use them you can save money in several ways.

What you can make with the Singercraft Guide

The Singercraft Guide is basically a long metal ruler with a slit down the middle. You wind whatever you like around it and sew down the gap.

So what can you make with it?

Fringing: You can wind yarn around it and make a fringed edging to sew onto projects, or trap in seams.

If you thread tassels or pompoms onto your yarn you can make a classic furnishing trim for cushions, upholstery, lampshades, linen edgings etc.

You can also create fancy monograms and more complex designs by stitching a looped fringe and then sewing it to a backing fabric in the design of your choice.

Rugs and Pile Fabrics: Wind yarn around your guide and stitch straight onto a fabric backing. If you cut the loops you'll have a pile rug, use the width extensions for a shaggy rya-style rug or stitch onto removable collar and cuff pieces for mix and match accessories to change the look of your outfits.

If you don't cut the loops you'll have a nice loop pile.

Other projects you can use these fabrics for are hats, toys, bags, cushions, tea cosies, Winter jackets for little girls, and more!

Just some of the things you can use to make your rugs include cut and dyed strips of old stockings, tights or pantyhose, rug yarn, thick cotton warp, multiple strands of thinner yarns, fabric strips, cut up old t-shirts. You could even make a welcome mat from thread pulled from old hessian/burlap sacks.

Tape and Rick-Rack Trims: Wind ric-rac, ribbons, bias tape, seam tape, gauze strips or lace around the guide to use as fancy fashion trims and insertions.

You can layer different ribbons, stitch different colours of bias tape together so that the front and back shows a different colour as you wind, layer lace on top of solid ribbon, the sky is the limit!

Looped Trims: Wind several threads of perle cotton around the guide in wide loops and stitch to tape or ribbon for a looped trim. Add one or more beads to each loop of threads for extra interest.

Use rouleaux to make a trim with large, sophisticated loops for special garments.

Gathered Puffing: Fold strips of very lightweight fabrics (eg: organdy/organza) and stitch along one long edge. Feed onto the guide to form gathers and stitch. These can be sewn into seams on garments, trapped in the seams at the end of a scarf, on cushions, at the bottom of a mattress flounce etc.

Stitch piping along the flat edge before gathering for very dramatic flounces.

See my Singercraft page for full instructions and transfer designs to use with the Singercraft Guides.

Serial number 120936 from my collection

Serial number 120987 (shown at a slight angle. It is actually flat on the end, not angled).

Pictures of the flat ended Singercraft guide 120987 were kindly supplied by Haute Goat Recycled Cashmere – See their blog and etsy shop, plus a tutorial on using the guide to make stitched on fringing

There were two basic styles of Singercraft Guide released which I will describe below.

Straight guides 120936 and 120987

The first guide that was released in the late 1920's was serial number 120936, shown on the left. These don't show up for sale as often as the later models but if you do find one, make sure it has the little button that fits into the slot. The button keeps the guide at a consistent width and without it your work will look sloppy. Since the button is removable it isn't unusual to find guides without it. This guide cannot be used with the knife or width extensions but it can be used to make gathered ruffles, which the later bulb ended Singercraft guides cannot be used for.

The guide with serial number 120987 is the same as guide 120936 but it can be used with the knife and width extension attachments shown below. The button used to keep the guide at a consistent width has also been replaced with the loop shown on the bulb ended models.

Serial number 120987 from my collection

"Century of Sewing Service" special edition Singercraft guide 1951 from my collection

Bulb ended guides 120987

The slightly later bulb ended guides known as "Singercraft Guide No. 2" are a lot more common than the original guides. They can be used with the optional knife and width extensions.

These guides cannot be used to make gathered ruffles, but this is not important. Ruffles are rather fussy to make on the Singercraft guides and can be more easily made by simply gathering one edge of your folded fabric.

You may also see guides listed that say they are serial number 120983 but this is the serial number of the knife guard only. Since not all Singercraft guides are engraved with their serial number it's a simple mistake to make.

The Knife

Knife guard: Serial #120983
Blade: Serial #120982

The knife is a handy attachment for stitching cut pile but it isn't essential. An inexpensive pair of thin bladed scissors such as those used to cut hair can be used to cut the pile after sewing.

The knife and knife guard are removable for stitching trims and looped pile.

Blades should be treated with care as they are almost impossible to replace. Because blades in packets are so rare, Singer collectors pay a great deal for them. The only replacement blade in a packet I have ever seen sold for over $100 Australian on ebay. I have also seen a used replacement blade (without the packet) listed on ebay for approximately $25

The two width extensions (from my collection)

The original paper envelope the extensions were sold in (not from my collection)

The Width Extensions

Serial numbers 120988 and 120989.

Using the width extensions allows you to make trims of four different widths. You can find instructions for using them here.

Width extensions are difficult to find and expensive, but there are a couple of tricks to finding cheaper ones.

Look for ebay auctions described as "sewing machine parts" or "sewing machine accessories". You may be lucky enough to find someone with no knowledge of sewing machines that has put them in an auction without a description. That's how I found mine at a decent price.

Another option is to take up op shopping, or thrift store shopping. I found my silver coloured guide and instructions for removing the knife in a bag of knitting machine parts at the op shop a couple of weeks ago.

If you can't find them cheaply don't pay an exorbitant price unless you want them as part of a collection. You can always use a hairpin lace crochet fork, or a simple home-made guide to make trims in any width.

Some of my collection of Singercraft Guides (Not including instructions and transfers)

Top 3 guides #2: serial# 120987 (the middle guide has a blade guard but no blade)
Bottom guide: serial# 120936
Width extensions: 120988 and 120989

How to buy an inexpensive Singercraft Guide to use

If you want to buy a Singercraft Guide as inexpensively as possible there are a couple of things to look out for.

First of all, check out your local op shops (thrift stores), antique malls, junk and bric-a-brac shops. You never know what you might find until you look!

If you're looking for one on ebay or other auction websites, look for ones collectors won't be as interested in.

Guides without a knife are just as useful as ones with the knife. Collectors won't be as interested in these because blades are so difficult to find, however you don't need the knife attachment because you can use scissors to cut the pile on rugs.

Guides without a box or instructions also sell on ebay for much lower prices. At the time of writing this article you should be able to find one for around US$20. You won't need the instructions because you can download them from my Singercraft page.

Avoid special edition guides unless they are selling very cheaply. They are a nice addition to a collection but are no different to the regular guides if you just want them to use.
Read more about the different editions of Singercraft Guide #2
---
Copyright Sarah Bradberry, June 18th 2010. Image "mine2.jpg" and additional text regarding guide #121079 copyright June 30th 2010. All rights reserved.