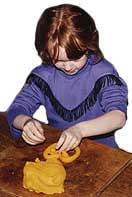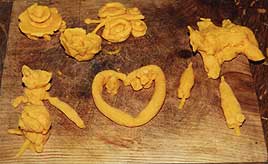 Two different recipes for play dough follow. One can be made by children but will not last very long and needs to be refridgerated. The other will last indefinitely in an air tight container, but involves cooking on a stovetop.
The Kids Too Version
Materials
2 cups plain flour
1 cup salt
1 cup water with food colouring added
1 tablespoon oil
Method:
Mix dry ingredients in a big bowl.
Mix water, oil, and food colouring together.
Gradually add the liquid to the dry ingredients until you have a firm ball of dough, kneed thoroughly, adding extra water and oil if required.
This dough keeps well in an airtight container in the fridge for several weeks. It will become increasingly sticky and moist with time.
Parents Only Version
This version lasts longer but children don't get the added fun of being involved in the process.
(So far we have had a batch of this playdough in an airtight container in the cupboard for about 3 months and it's as fresh as the day we made it. As you can see from the pictures above, it gets used a LOT!)
Materials
1 cup flour
1 cup water with food colouring added
1 tablespoon oil
1/2 cup salt
1 teaspoon cream of tartar
Method:
Mix all ingredients in a small saucepan.
Stir over medium heat until it starts to harden, watching carefully that it does not burn or get too hard.
Pour out onto the counter and finish by kneading with your hands while it is still hot.
If your dough is still too sticky return it to the saucepan and reheat while stirring vigorously.
---
Copyright © Sarah Bradberry 1997. Videos copyright 2011. Images copyright Sarah Bradberry October 1999.