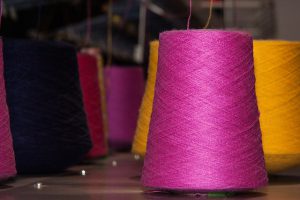 Using coned machine knitting yarns for hand knitting not only opens up a whole new range of yarns to the hand knitter, but also offers a chance to combine finer yarns to create an almost infinite range of novelty or matching range of yarns.
Measuring Your Gauge
Machine knitting yarns come in a huge variety of thicknesses, from bulky all the way down to yarns as fine as sewing thread. It's always easy to see the uses for the thicker yarns as they look like hand knitting yarns but there is one important thing to know about coned machine yarns before knitting an entire garment.
Coned machine yarns are usually treated with an oil or waxy substance in order to flatten down any fuzzy threads that would fluff up and catch in the various parts of a knitting machine. Because of this, the gauge and appearance of your knitted fabric will vary before and after washing. Just as if you were knitting by machine, you must wash your swatch before measuring your gauge and adjust your pattern to suit the percentage that it shrinks (or stretches). If you prefer, you can wind the yarn into skeins and wash it before knitting.
I find the easiest thing to do for beginners is to use a knitting pattern that states the number of rows to knit instead of the number of inches. You can then match the gauge of your washed swatch to the gauge stated in the pattern, knit the pieces without having washed the yarn, wash and block the pieces, then sew them together.
Uses for Finer Yarns
When considering uses for finer machine knitting yarns the most obvious one that comes to mind is the fine airy lace known as cobweb lace. However, when you begin to combine yarns you open up a whole new range of designer yarns. The only rule you need to consider is washability. Dry clean only yarns should not be used with yarns that cannot be dry cleaned and vice versa. Aside from this rule, the combinations you can come up with are almost
limitless! You can use several strands of the same yarn together for the body of a garment and the same yarn combined with another colour for the ribbing. Try combining a plain thread with a bouclé for added texture, with a metallic thread for sparkle, or with different shades of the same yarn for visual depth.
Combining Colours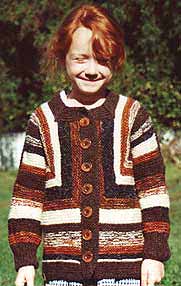 You can also use a small number of yarns to create a larger number of colours, such as I did with the hand knitting yarns in the garment on the left.
I had four basic colours, off-white, dark grey, dark brown, and variegated brown/purple in DK weight yarns. I used them double to make a bulky weight, then combined them in different ways to make complementary yarns. Grey was combined with the variegated brown to make a new variegated looking yarn, and all the colours were stranded together with the off-white for even more variations of the yarns. Because all the combined yarns were made up of yarns already used in the jacket they automatically go together in a pleasing way.
This method can also be used to gradually move from one colour to another while blending the colours together in between.
For example: If you were knitting a rainbow you would have red, orange, yellow, green, blue and purple.
To blend the lines between stripes of colour you could knit:
4 rows with 2 strands of red together,
4 rows with 1 strand of red and 1 strand of orange,
4 rows with 2 strands of orange,
4 rows with 1 strand of orange and 1 strand of yellow,
4 rows with 2 strands of yellow,
4 rows with 1 strand of yellow and 1 strand of green, and so on.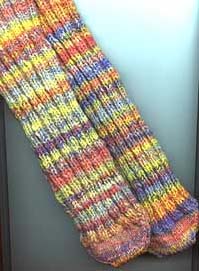 This technique looks especially nice when knitting with natural coloured wools, blending from stripes of natural brown to natural white in a K2, P2 rib as the colours blend differently in the knit and purl columns.
The socks on the left show the effect made when 2 strands of rainbow coloured variegated yarn where plied together and knit in a K2, P2 rib.
I'm sure you'll come up with many more ways to combine machine knitting yarns. The trick is to experiment, swatch, and have fun doing it!
---
Copyright Sarah Bradberry September 16th, 2000