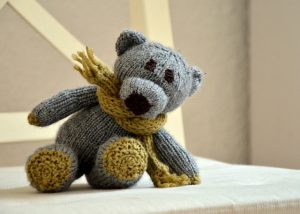 Always check the designers instructions to see if they specifically do not recommend the toy for children. For instance Jean Greenhowe, designer of many gorgeous toys, always makes sure to state if the toy is unsuitable.
Do not sew on beads, buttons or anything that can choke a small child, even if you think they can't pull it off.
Always embroider details like eyes, buttons and surface decoration instead of sewing them on.
If you wish to use 3-D plastic eyes on your toy make sure they are the safety eyes that are held on with a tight fitting washer on the back. They're difficult to get on but they're worth the effort because they won't be pulled off. Make sure these are plastic eyes, not the old glass eyes that may still be available for the restoration of vintage toys.
Never use buttons for eyes.
Never use stick on, or sew on eyes.
If your toy is made of a fur stitch in either crochet or embroidery make sure you cut the loops so that tiny fingers cannot get stuck and broken in the loops. This stitch is not suitable for toys intended for children under the age of two.
Furry fabrics are not suitable toys intended for small children as they may suffocate if the toy falls on their face while they sleep.
---
Copyright © 1996 Sarah Bradberry