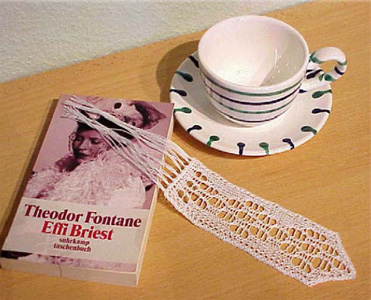 On the subject of starching vs blocking:
Some people recommended using a light starch or diluted stiffener/white glue. Others said, no, the starch is bad for the book's pages and just blocking makes a nice, drapy bookmark that works fine.
One person suggested mounting the lace to a piece of black velvet ribbon to show off the lace pattern more. Another, inserting the lace with a black backing into a clear plastic sleeve.
You could also laminate or sandwich it between pieces of clear contact paper and that would certainly protect the lace, but that would tend to really "flatten" the knit effect and it wouldn't have that "airy" feel.
Materials
Any needle size that gives you the "look" you want is fine. Crochet cotton is popular. Any thin yarn works fine. I've used punch embroidery yarn, fairisle yarn, fingering/baby yarn… (note from Sarah: I have found that crochet rayon works very well as it retains it's shape for a long period after blocking and is light and airy for lace patterns).
Size
Some people like a wide (3-4″) bookmark, others prefer 1 1/2 – 2″. Or you can knit them sideways. cast on enough for the length you want and knit to width. Be creative!
---
Compilation by Sue Hotovec 1998