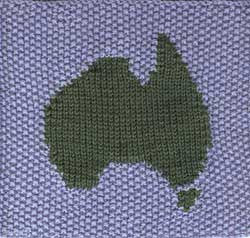 Australia has some unique terminology when it comes to knitting, yarn and garment names. Some we share with other Commonwealth countries (and countries that used to be in the Commonwealth), but some are uniquely our own.
Garment Names
Things With Sleeves
We don't use the term "sweater" in Australia (unless we're talking about someone who is perspiring heavily). The garments commonly known as sweaters in the US are broken down into further categories.
Jumpers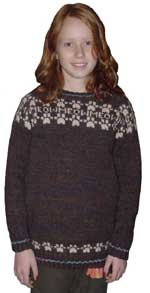 Jumpers are long sleeved sweaters that do not open at the front. They may have 3/4 length sleeves but this is rare and they would then probably then be referred to as a "top".
Cardigans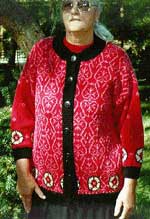 Cardigans open down the front, with or without a row of buttons to keep them closed. They may be tied with a knitted belt or left open. Cardigans may also have short sleeves.
When teamed with a matching tank top or top they are stilled referred to as a cardigan, but also become part of a twin-set.
Jackets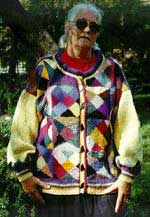 A jacket is like a cardigan, but with more ease and usually made of a heavier yarn. Jackets can close with a belt, but commonly close with buttons or a zipper.
Things Without Sleeves
Tank Tops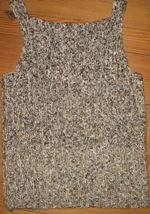 Tank tops are what US knitters usually refer to as "shells". A summer weight, sleeveless top, often fitted to the body (although not always)
Tops
The following image is copyright Mary-Helen Ward and is used with permission.
The pattern Mary-Helen used is the T-twist tee from Knitty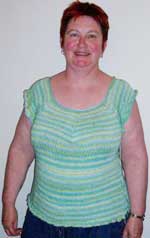 "Top" isn't a commonly used term as it's quite generic, but it usually refers to a t-shirt style of garment.
Singlets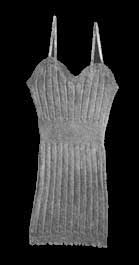 "Singlet" can refer to either a work-style tank top (typically blue), although these are never hand knit, or a sleeveless Winter undergarment meant to keep you warm.
Vests
The term "vest" can refer equally to an undergarment style of singlet or waistcoat
Waistcoats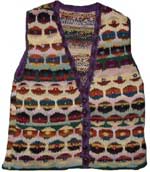 Waistcoats are sleeveless garments that button down the front.
Yarn Weights – When Plies Aren't Plies
Yarn thicknesses in Australia are referred to as a number of "plies". In this situation a "ply" is a standard measurement of thickness, not an actual strand of yarn.
The most common yarn thicknesses are:
3 ply
4 ply
8 ply and
12 ply
2 ply, 5 ply, 6 ply, 10 ply, 14 ply and others are also used, although not commonly.
Because the term "ply" refers to a standard measurement of thickness, thinner yarns can be combined to create thicker ones with relative ease. For example, 2 strands of 4 ply yarn can be combined to make a yarn that is equal to 8 ply. An 8 ply yarn can be combined with a 4 ply yarn to equal a 12 ply yarn and so on.
Yarns of each thickness also usually knit to the same gauge, which makes substituting yarns a bit easier (although you must also take other factors into account).
For example: The standard gauge for 8 ply yarns is 22 stitches and 30 rows to 10cm/4″ over stocking stitch worked on 4mm needles. You could substitute the 8 ply yarn that a pattern calls for with another 8 ply yarn and have reasonable confidence that you will be able to knit it at the same gauge.
Wool Doesn't Always Come From Sheep
The word "yarn" isn't used by all knitters in Australia, many still refer to any ball of yarn as a ball of "wool", no matter what fibre it is made of.
When buying yarn from Australia sellers on Ebay it is important to ask them what the fibre content of the yarn is if it isn't stated in the auction listing. Those bargain 50 cent balls of "wool" that you're lusting over might be 100% acrylic!