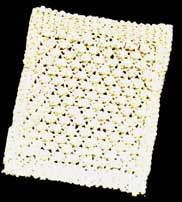 This is a thick, nubby cloth.
Because this stitch (Astrakan, also known as Trinity) makes a bobbled-like surface, the washcloth is good for after-jogging showers or anytime that someone wants a more invigorating shower or bath experience…or in a sauna.
[Note: If you use 100% cotton yarn, and it's not preshrunk, make a larger version to allow for the post-washing shrinkage…or this could become a trivet <g>. Linen or hemp yarns would also work well, just allow for shrinkage, etc.]
Materials
Cotton or cotton-blend yarn in worsted-weight (or sport-weight used double)
Size US 9-11 needles, depending on personal knitting gauge
Finished size: 11-12″ square
Stitch: Astrakan aka Trinity
Pattern
4-row repeat with approx. 1 1/4″ border of garter stitch
Directions:
Cast on 44 stitches and knit for 5 or 6 rows, forming border of garter stitch. Then switch to pattern as follows:
Row 1: K4, *[K1, P1, K1 ALL into next stitch; P3 together] repeat from * to within 4 stitches of end of row, K4.
Row 2: K4, P 36, K4
Row 3: K4, *[P3 together; K1, P1, K1 ALL into next stitch] repeat from * to within 4 stitches of end of row), K4.
Row 4: Repeat row 2.
Repeat these 4 rows until the cloth is approx. 1 1/4″ so less than square, then knit 5 or 6 rows and bind off.
Using the same yarn, braid, crochet or I-cord a 2″ length and attach to corner of cloth for hanging loop.
Variation: Scrubby Soap Sack
Follow the instructions but make a rectangle about 5″ wide instead of a square, fold in half width-wise and stitch up the 2 side seams. Weave some yarn through the unstitched end to make a drawstring and add loop as above. Put a bar of soap inside the envelope, tie it closed with slip-bow and use as a loofa.
Another idea (better, I think) is to make a cord long enough to fit over the hand as a wrist loop for the soap sack, making it easier to use in the shower, which kids love!
---
This pattern is Copyright © Catherine Wingate 1999, all rights reserved.