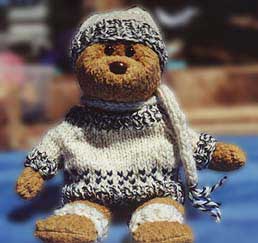 The patterns for Beanie's ski jumper (sweater) and leg warmers are also available.
Materials
Scrap of dk yarn
Set of 4mm dpns and a set of 3.25mm dpns
Tension
22sts and 30 rows to 10cm over st st on 4mm needles
Method
Using 3.25mm needles cast on 38sts and work 6 rounds K1, P1 rib.
Change to 4mm needles and main colour and knit 2 rounds
3rd round: (K17, K2tog) twice (36sts)
4th round: (K4, K2tog) repeat to end of round.
K 4 rounds
9th round: (K3, K2tog) repeat to end of round
Knit 4 rounds.
Continue decreasing in this manner until you reach K2 together to end of round (6sts)
Next round: (K1, K2tog) twice. (4sts)
Work 12 inches (30cm) I-cord on these 4 sts. Break yarn and thread through sts. Fasten off. Add tassel in contrast colour.
---
This pattern and all images on this page are Copyright © Sarah Bradberry 1999. All rights reserved.