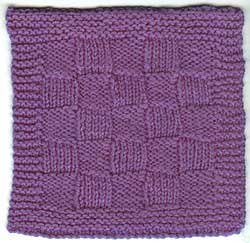 (Note from Sarah: I knit the sample blanket to gauge with dk yarn on 4mm needles)
This pattern is one I have used for all the grandchildren, nieces, nephews and any other newborns that I have known. It is a very simple pattern and is excellent for beginners. It allows the beginner an easy pattern to follow and at the same time creating something useful to them.
Please note that I have adjusted the size down to Beanie Babies size for this pattern.
Materials
Needles: Size 4, (3.5mm)
3 ply baby yarn
Gauge
5 sts = 1″ (5 sts = 25mm)
7 rows = 1″ (7 rows = 25mm)
Pattern
Cast on 35 sts.
Rows 1 – 8: Knit to end
Pattern set # 1:
Rows 9, 11, 13, and 15: (K5, P5) 3 times, K5
Rows 10, 12, 14, and 16: K10, P5, K5, P5, K10
Pattern set # 2:
Rows 17, 19, 21, and 23: K10, P5, K5, P5, K10
Rows 18, 20, 22, and 24: (K5, P5) 3 times, K5
Repeat:
Pattern set #1
Pattern set #2
Pattern set #1
Knit 8 rows garter st. Bind off.
Your blanket is now complete.
To adjust the size of the blanket all you have to remember is that then number of squares  across MUST BE an ODD number. And the number of squares up MUST BE an ODD number.
That is it, real simple real easy and you get a great little blanket for your Beanie Babies.
---
Copyright © Rick Farish. All rights reserved. Email: [email protected]