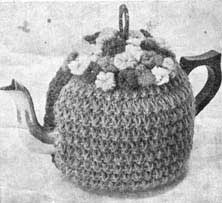 Nothing could give a prettier finish to a dainty afternoon tea than this exquisite little cosy. It is worked in a new, and simple, petal stitch. Multi-colored flowers finish the top, the simplicity of these is described below.
Any small oddments of two-ply (in harmonising tones) will make the flowers.
The original cosy was in two shades of blue; one half being knitted in pale mist blue and the corresponding half in a darker blue. There are numerous other color combinations to suit one's tea-set.
Materials
1/2 oz. mist blue 2-ply (half the thickness of the fingering weight)
1/2 oz. mist blue 4-ply (fingering weight)
1/2 oz. darker blue 2-ply
1/2 oz. darker blue 4-ly.
3 Old UK Size No. 8 knitting needles
Bone ring about 1 1/2 inches in diameter
Abbreviations
P = purl
K = knit
M = make
WRN = wool round needle
Pattern
Wind the 2-ply into 2 separate balls. Note from Sarah: I think the 2 ply is used only so that you can have one strand of light and dark together so that any yarn the same weight as your 4 ply can be used).
Using double 2-ply, cast on 46 stitches. (In the 3rd row the 'made' st. is obtained by knitting under the wool
between 2 sts.)
1st Row: *Purl.
2nd Row: Knit 2 tog. all along row.
3rd Row: (K 1, WRN, M 1, WRN) repeat between brackets to end of row, ending with WRN, M 1
4th Row: Knit, dropping the WRN * (46 sts.)
Repeat these 4 rows nine times more (10 patterns).
(MEASURE FOR REQUIRED DEPTH OF COSY)
Break off 2-ply but keep the sts. on the needle.
Pick up the 46 cast on sts., join in 4-ply for lining and knit in garter st. until the lining is the same depth as patterned part and ending with point of the needle in same direction as the needle holding the patterned part. Now with right side of work towards you, place the two needles together and knit off both needles at once, using the 3rd needle.
Still using 4-ply, purl one row, then decrease as follows: K 11, K 2 tog., K 9, K 2 tog., K 9, K 2 tog, K 11.
2nd Row: P 2 tog., P to last 2 sts., P 2 tog.
3rd Row: K 9, K 2 tog., K 8, K 2 tog., K 8, K 2 tog., K 10.
4th and alternate rows: As 2nd row.
5th Row: K 7, K 2 tog., K 8, K 2 tog., K 8, K 2 tog., K 7.
7th Row: K 5, K 2 tog., K 7, K 2 tog., K 7, K 2 tog., K 6.
9th Row: K 4, K 2 tog., K 6, K 2 tog., K 6, K 2 tog., K 4.
11th Row: K 2, K 2 tog., K 5, K 2 tog., K 5, K 2 tog., K 3.
13th Row: K 7, K 2 tog., K 7.
15th Row: K 5, K 2 tog., K 6.
16th Row: Same as 2nd Row. Cast off.
Press the top part (where decreasings were made).
Slip stitch the linings to cosy at sides, then slip stitch the two halves together, allowing openings for spout and handle. Double crochet round the ring and attach to top.
To Make the Flowers:
Wind the 2-ply wool loosely round two fingers of left hand (1st and 2nd fingers) about 28 times.
Slip the loops off and hold one end of them firmly in left hand whilst winding the wool round the middle about four times to hold securely.
Tie the ends and allow about 8 inches of wool to sew to cosy.
Now arrange the loops evenly all round and work about 3 French knots in centre, using contrasting color, (yellow or bright orange make excellent centres).
Make as many multi-colored flowers as will fill the top so that they touch comfortably, and without looking heavy.
---
This pattern is in the public domain. This digital version copyright © Sarah Bradberry 2002. Kindly transcribed for Knitting-and.com by Geri Actor