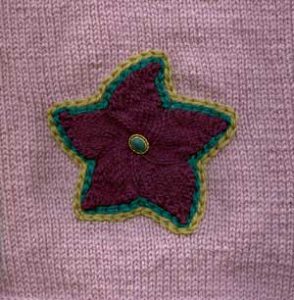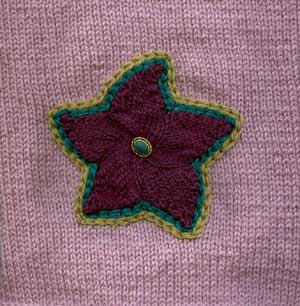 This image shows an appliqué star on one of the squares for the Odd-Ball Sampler Afghan
Abbreviations
st-st = stocking st
M1 = Make 1. Pick up the bar lying between the sts and knit into the back of it.
K2tog = knit 2 together
SSK = slip slip knit. Slip the next st from the left needle knitways, slip the next st knitways. Return both sts to the left hand needle in their new twisted states and knit them together. This forms a left slanting decrease.
Technique
Cast on 5 sts and arrange on 3 double pointed needles. Mark the beginning of the round and work as follows:
1st round: Knit
2nd round: Inc into each st
3rd round: (K2, M1) 5 times
4th round: (K3, M1) 5 times
5th round: (K4, M1) 5 times
Continue increasing in this manner until you reach (K9, M1) 5 times
Make points thus: K10, turn, P10
K2tog, K6, SSK
P8, turn
K2tog, K4, SSK
P6, turn
K2tog, K2, SSK
P4, turn
k2tog, SSK
P2, turn
K2tog, fasten off.
Rejoin yarn and work the remaining 4 points in the same manner.
Block.
Variations:
You can make your stars almost any size by increasing to a larger number of sts when working the centre of the star, just make sure it is an even number. You could even join two very large stars and stuff them to form a pillow!
---
Copyright © March 1998 Sarah Bradberry