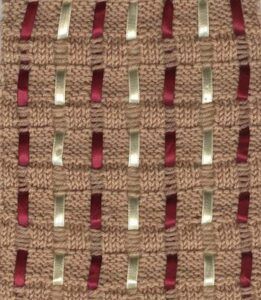 Railroad knitting is pretty for afghans, shawls, and tidies. Sample was knit in dk wool on 4mm needles.
Pattern
Cast on a multiple of 4sts + 3 using the knitted on cast on method (Ie: Put the needle through each st, not behind it as in the cable cast on)
1st, 3rd, and 5th rows: K
2nd, 4th, and 6th rows: P
7th, 9th, and 11th rows: P
8th, 10th, and 12th rows: K
Rows 1-12 form pattern. Repeat for desired length.
When casting off, drop every 4th st and unravel the dropped st all the way to the cast on. Run ribbon through the ladder formed by the dropped sts.
Other Articles of Interest