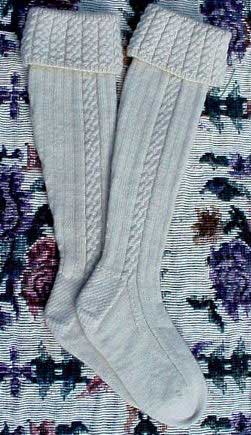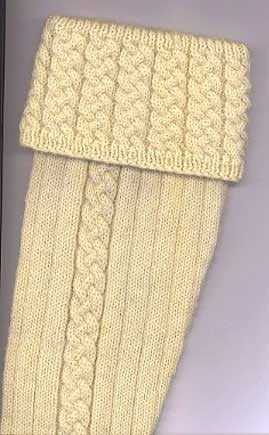 John Anderson, my jo,
John,When we were first acquent,
Your locks were like the raven,
Your bonnie brow was brent;
But now your brow is beld, John,
Your locks are like the snow;
But blessings on your frosty pow,
John Anderson, my jo!
John Anderson, my jo, John,
We clamb the hill thegither;
And monie a canty day, John,
We've had wi' ane anither;
Now we maun totter down, John,
But hand in hand we'll go,
And sleep thegither at the foot,
John Anderson, my jo.
jo = sweetheart acquent = acquainted, met brent = smooth, unwrinkled
beld = bald pow = pate, top of the head clamb = climbed
thegither = together monie = many canty = cheerful
wi'ane anither = with one another maun = must
This is a top-down version of my 2003 toe-up pattern.
This pattern uses more sts than the original and so can be adapted to a wider range of sizes. Most will find the top-down pattern easier to adapt as far as refiguring the stitch count goes.
The base number of sts is 72 for the ankle and foot and 102 at the start of the leg. Most simply, the pattern can be re-sized by your choice of yarn and needles and the finer or larger gauge produced. This method has limits but will work for many, if yarn size isn't of utmost importance.
A range of yarns, from fingering and sock yarns to a bulky 10-ply could be used. As an example, I knitted long socks from Brown Sheep's worsted at 5.5 sts per inch compared to the label recommendation of 4.5 on 5mm (Size 8 US) needles. Although I neglected to record the needle size I used to get that gauge, it would be several sizes smaller. I personally wouldn't care for kilt hose in that gauge, but others might prefer it…
As far as the range provided by gauge alone, at 6 sts per inch, a foot circumference of 12" results which would fit a foot/ankle circumference of 13" or more and an 18" calf . At 10 st per inch, a calf in the neighborhood of 11 inches can be fit with a foot in the 6 inch range, without altering the stitch count. As with all parts of the hose, a larger or smaller needle in certain sections may be all that is needed when other parts fit well.
For some, the most important factor for a good fit is the calf circumference, and it seems to be a consensus that most wearers like some cling to their socks. Your gauge per inch divided into 102 should equal your calf measurement less 5-10%, if garters will always be worn. I usually subtract around 20-25% for knee socks and hose that won't be relying on garters to stay up. A high percentage of negative ease won't be necessary when garters are worn, but more negative will take some of the pressure off the garters. This is a plus for those with circulation problems that might be negatively affected by garters used alone.
So, if your gauge per inch divided into 102 equals your calf measurement, you need to go to a slightly finer gauge for a snug fit that feels great and resists bagging and sagging during wear and wears well, especially in the foot. Always knit your chosen yarn on needles well below the label recommendation unless it is a sock yarn. Anything short of stiff-as-a-board… A firmly-knit fabric will be much longer-wearing.
Let's say that your calf measures 16″ around. 102 divided by 16 equals about 6.4 sts per inch. Your gauge should be more than 6.4 sts per inch to provide negative ease. A gauge of 7 sts per inch equals 14.5 inches and would give a negative ease of about 12% while 8 sts per inch (a 14″ calf measurement) produces 25% negative ease. Likewise at 7.5 sts per inch, the negative ease is 15% (hose calf measures @ 13.6 inches.)
Those with much larger legs who prefer the finer gauges will have to work more increases into the pattern and adapt the rest as need.
As an example of resizing, 10 sts could be added for an additional cable in the cuff. These 10 sts could be worked into the 10 ribs that remain at the ankle after leg decreases are done, making each rib contain 5 stitches instead of 4. All that remains to be done is to increase 6 extra sts after the garter area, so that each of the ribs in the calf also have 5 sts each. Thus, the leg ends with a total of 82 sts instead of 72. Extra decreases would be worked along the back "seam" to remove the extra st in each decreased rib so that there are five 5-stitch ribs front and back at the beginning of the heel. Care must be taken to assure that the extra decrease rounds are done before the start of the heel flap. If there aren't enough rounds from calf to ankle in which to do all the decreases, you might work the decreases every 4 th or 5 th round rather than every 6 th . For calves whose width falls off sharply, the decreases could be worked every 3 rd or 4 th round, then every 6 th round after the calf is passed.
Additional gusset decreases in the foot would also have to be worked, so that the foot st count equals that of the ankle once the gusset is finished.
Additionally, for hose sized up significantly, the number of ribs remaining after leg decreases could be upped to twelve (six ribs front and back) instead of the ten in the pattern. Further, these could be worked as 4-st or 5-st ribs depending on the required result. It's all a matter of mathematics working within the constraints of design…
Kilt hose are traditionally worn 3" below the bottom of the kneecap, though 3-fingers distance is close enough if you aren't in the Regiment or have very wide fingers <chuckle>. As long as no part of the knee is covered by the stocks, all will be well.
Any color from the kilt can be selected for wearing at any occasion. Some say that colored hose are only for casual or daywear along with cream shades and neutrals, while snow white would be worn only in the evening or for formal occasions, according to convention. Others aver that any color that harmonizes with the kilt is fine for formal occasions as well. Suit yourself.
I am assuming you have some sock-knitting experience as regards working and turning a flap heel whether you use 4 or 5 DPs, 2-circs or a magic loop, so I have not gone into detail there as regards st placement, needle numbers or orientation (ie. front-to-back/ side-to side for 2-circs.)
The short-row toe is adapted from Priscilla Gibson-Roberts' directions as given in her book Simple Socks- Plain and Fancy . The toe is worked on the instep half of the foot sts, narrows to the toe tips, then curves back to meet the sole sts, making a little cup for your toes. Since I first knitted this toe, I fell in love with it and it's been my favorite ever since. I love knitting it and I love how it feels. The P3tog through-the-back is a little tricky at first but is easily learned and can be done almost by feel alone with a little practice. The toe will require grafting across the sole sts. You may, of course, substitute your choice of toe shapings.
When knitted in Brown Sheep's Nature Spun Sport yarn on 2.5mm needles (size 1 or 1.5 US depending on maker) at 8 sts per inch, the hose fit 14-15″ calves (with 9-15% negative ease), with a leg length of 16″ from turning ridge to floor. This size would also fit calves and inch or so larger. The hose required about 6.5 ounces (185 grams). I knitted from coned yarn, so the exact yardage is unknown. For heavier yarns you will need to check the yardage requirements of other kilt hose and specific yarns.
Turned-toe Notes:
1) Make YO by taking the yarn to the opposite side and working the next stitch. This makes an "economical" YO. For knit rows, yarn is to front and for purl rows the yarn is at the back when the first st is made and the YO is made "automatically."
2) SSP, SSSP: (Slip, slip, purl) (Slip, slip, slip, purl.) Slip the sts, one at a time, as if to knit, to the right needle. Replace sts on left needle and purl them together, inserting the right needle from left to right on the back of the work.
3) To "correct" the mount of the right side sts : insert the right needle into the stitch from back to front, slipping it onto the right needle, repeat as needed, then slip the st(s) back to the left needle. These corrected sts are YOs that are mounted with the leading "leg" coming from the back of the needle. I just "sweep" the right needle forward, catching the leg as I do.
The Braid Pattern Notes:
FC4 : Front cross on 4 sts. Slip 2 sts to cable needle and hold at front of work, K next 2 sts, K2 from cable needle.
BC4 : Back cross on 4 sts. Slip 2 sts to cable needle, hold at back, K next 2 sts, K2
sts from cable needle.
1 inch (1") equals 2.54 cms.
Start knitting.
Cast on 112 sts, join in the round and rib K1, P1 for 3 rounds.
Next round: (Rib 4, M1) 28x (lift thread between sts and knit through the back). 140 sts.
Begin turn-over pattern.
Round 1: (P2, K8) 14x.
Round 2: As round 1.
Round 3: *P2, (BC4)2x * 14x.
Rounds 4 and 5: As round 1.
Round 6: *P2, K2 , FC4, K2 * around.
Repeat these 6 rounds 4 more times. (Some may prefer a deeper cuff by working a sixth repeat here.)
Repeat round 1.
Begin K1, P1 rib, decreasing 28 sts by working every 4 th and 5 th st together *K1, P1, K1, P2tog* around. 112 sts.
Rib 3 more rounds.
Purl one round for turning ridge.
Knit one round.
Reverse direction of knitting: Turn work inside out. The last st is now the first with the working yarn coming from it. Remove the new last st to cable needle, take yarn from back to front (to the right of the moved st) and replace moved st back on needle.
Recommence ribbing and decrease for garter area by working every 4 th and 5 th st together *K1, P1, K1, P2tog* 22 times. 90 sts.
Continue ribbing until garter section measures about 2 inches from turning ridge.
Increase for leg: Knit around, knitting twice in every 7 th st 12x, then K last 6 sts. 102 sts.
Begin leg.
Set up round: K2 , (P1, K4) 5x (back half of 4-1 rib), P2, K8, P2 (for first braid), (K4, P1)4x, K4 (front ribs section), P2, K8, P2 (second braid), and (K4, P1)5x, K2 (second half of back rib section.) Round 1 of braid pattern has just been worked.
Continue with pattern as set up, working the 6-round braids at sides of leg as given above.
Begin back leg decreases. When leg measures about 2" (about mid-calf of wearer) after the end of the garter section, dec. 1 st at beginning and end of round with K2tog at the start and SSK at the end. 100 sts. (Longer legs may benefit from up to 2.5 inches in this section, but beware of making this area too long. For hose measuring in the area of 16-17 inches from turning ridge to heel, 2" is enough.)
Work 5 rounds as established, then work another decrease round. 98 sts.
Continue in pattern working decreases every 6 th round until there are 5 ribs between cables at the back of the leg. 72 sts.
Work evenly in pattern on 72 sts until leg measures desired length, measured from the turning ridge to the middle of the ankle bone. 36 heel flap rows in your gauge will be added to length.
Begin French heel .
Knit 18 sts at start of next round. The first 36 sts now on the right needle are the heel sts. Arrange the remaining sts according to your method (Dps, 2-circs, Magic-loop, whatever). Always slip the first st of each row.
Purl back across the 36 heel sts.
Begin working heel in Eye of Partridge st. All sts are slipped knitwise.
Row 1: Work across the heel sts (Sl 1, K1).
Row 2: Sl 1, purl across.
Row 3: Sl 2 (separately) (K1, Sl 1) across ending K2 .
Row 4: Same as row 2.
Continue heel for 32 more rows, 36 rows total in flap.
Turn heel.
Keeping heel in Eye of Partridge st, work across 20 sts, K2tog, K1 (13 sts unworked on left needle.) Turn work.
Sl 1, P5, P2 tog, P1. Turn work. 13 sts unworked on left needle.
Sl 1, heel st 6 sts, K2 tog, K1. Turn.
Sl 1, P7, P2tog, P1. Turn.
Sl 1, heel st 8, K2tog, K1. Turn.
Sl 1, P9, P2tog, P1. Turn.
Continue to work to 1 st before "gap" left by turning on previous row, decreasing that st with the next and working another st on RS and WS of heel until right side ends K2tog with no sts remaining on left needle. Work WS row which ends P2tog with no additional sts.
Establish gusset.
Quit heel stitch and knit across 20 heel sts. Pick up 19 sts along heel flap, then pick up one st in corner between heel and instep. Place on left needle and knit it onto the right needle. (You might want to go 2-4 strands deep in the corner, rather than picking up the first strand as is the usual recommendation here. Pick up the strand with a crochet hook, twist it, and "knit" up the other strands normally. I go with the 4 th strand.)
Work across instep in 4-1 rib: K1, place marker, K3, P2, (K4, P1) 4x, K4, P2, K3 place marker, K1.
Pick up a corner st as before, pick up 19 sts along heel edge, K10 remaining heel sts to end the round.
Begin gusset decreases.
K29, K2 tog, slip marker, work across instep to marker, slip it, SSK, K29 sts.
Knit next round evenly in pattern.
Continue to work to markers and decrease as before, followed by an even round until all extra sts are decreased. (12 sets of decreases done.) 72sts.
Work foot to desired length minus 20 rounds in length per your gauge.
Work short-rowed toe.
Working on top half of sts only, no longer in rib pattern:
Row 1: Knit 35 sts. (Don't slip 1 st st.) Turn.
Row 2: YO, P34. Turn.
Row 3: YO, K33. Turn
Row 4: YO, P32. Turn.
Row 5: YO, K31. Turn
Row 6: YO, P30. Turn.
Continue as established, working one less st each side until purl row is worked YO, P15. Turn.
Begin second half of toe:
Row 1: YO, K14, correct mount of next st, K2tog. Turn. (The corrected st is a YO.)
Row 2: YO, P15, correct mount of next 2 sts, SSP. Turn. (First st is a YO.)
Row 3: YO, K16, correct mount on next 2 sts, K3tog. (The 2 corrected sts are YOs.)
Row 4: YO, P17, correct mount of next 3 sts, SSSP. (2 YOs and a regular st.) Turn.
Row 5: YO, K18, correct 2 sts, K3tog. Turn.
Continue as established, working 1 more st each side, correcting the st mounts etc., until last right side row ends K29, K3tog, turn
Next row. Slip 1, P34, SSSP, no sts remaining on left needle. Turn.
Next row: Sl 1, K35.
Graft the two sections together with Kitchener stitch.
Make another one.
---
Copyright Robert Jenkins 2010. All rights reserved. You may not edit, email, publish, or distribute the contents of this page in any form without the prior permission of the copyright holder.