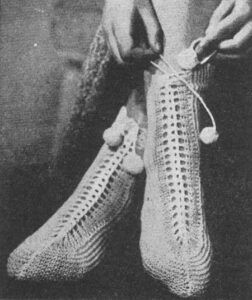 This pattern uses old UK needle sizes and fingering weight yarn.
Introduction
You can "run" a pair of these bed-socks up in no time. For economy's sake use scraps of left-over wool.
Cold feet? Never in these cosy bed-socks.You slip them on in a jiffy and tie lightly above the ankle, as shown in the picture above. And they look quite pretty. By the way, a pair would make a very nice little gift.
Materials required
2 skeins 3-ply wool, and a pair No. 9 needles.
Pattern
Cast on 52 stitches. 1st Row: Knit. 2nd Row: K1. * k 2 tog., wool forward. Repeat from * to end of row, knit last stitch (This makes hole for lacing-up).
Work in stocking-stitch for 5 rows (plain and purl alternately). Next Row: Knit twice into every stitch.
Continue in plain knitting for 56 rows. Next Row: Knit 2 tog. to end of row. Work 5 rows stocking-stitch to correspond with commencement. Next Row: K 1, * 2 tog., wool forward. Repeat from * to end of row. Knit last stitch (This makes holes). Knit next row, then cast off.
Fold over and stitch edges together at one end.
With double wool and crochet hook make chain about 40ins. for each sock. Lace this through holes; finish with tassels and tie.
Additional Information
This is a vintage pattern, some terms are different from modern knitting language.
wool forward = yarn over
stocking-stitch = stockinette stitch
plain knitting = garter stitch